AI Visual Recognition Cash Register
AI visual recognition cash register and self-service kiosk are becoming more and more popular.In 2021, bricks-and-mortar retail and catering enterprises ushered in the critical period of digital transformation. With the normalcy of the epidemic and the penetration of new technologies such as big data and artificial intelligence, some emerging business models rapidly develop and promote the growth of market sales.
In this article, we will share with you some novel smart terminals and intelligent technologies used in the retail and catering scenes in 2021.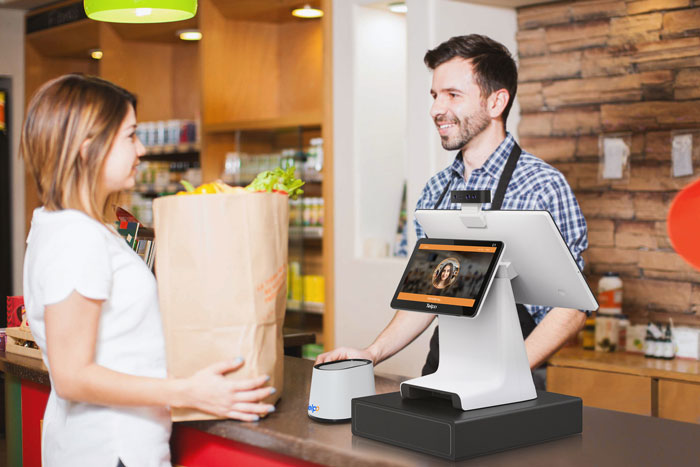 AI Visual Recognition Cash Register& AI Image Recognition Used In-Store Operation
Compared with the traditional electronic scale, AI visual recognition cash register utilizes the image recognition technology to make automated weighing and displays the items information on the screen. Integrating the checkout software, the AI visual recognition cash register can calculate the total amount and allows the customer to pay and print the receipt on-site without going to the check-out area. As a part of the retail store scenario, it can connect the channel from commodity, order, payment to membership, and elevate the higher value space of the scene.
In the catering industry, food recognition and dish weighing are also gained much attention. Regarding dish delivery, AI weighing can identify and weigh dishes and analyze various indicators of dishes accurately, greatly guaranteeing dining standardization.
There is no doubt that the AI scale or AI visual recognition cash register is one of the most concerned intelligent technology applications in the retail industry in 2021. It contains information acquisition, information preprocessing, feature extraction and selection, sample enhancement, image processing, algorithm optimization, and other elements. In addition, AI visual functions and algorithms with customer flow recognition, behavior analysis, object (commodity) recognition function benefit store operation and marketing as well as elevate its efficiency and safety.
Take Telpo AI visual recognition cash register as an example. The high-performance processor, Android 7.1 system, and standard SDK make the device run smoothly, easy to operate and make secondary development. The 2MP wide dynamic camera empowers a wide recognition range and high recognition accuracy, while the dual 15.6-inch screens support displaying item information on the main screen and advertising on the customer screen.
That means, customers only need to put their selected items on the sensing plate, and then the item information and price will be displayed on the screen. After customers confirm the order, they can choose one of the payment methods (QR code payment, NFC payment, face payment, IC bank payment, etc) to complete the transaction and get the receipt. The whole process delivers customers a seamless shopping experience and promotes their loyalty and member marketing.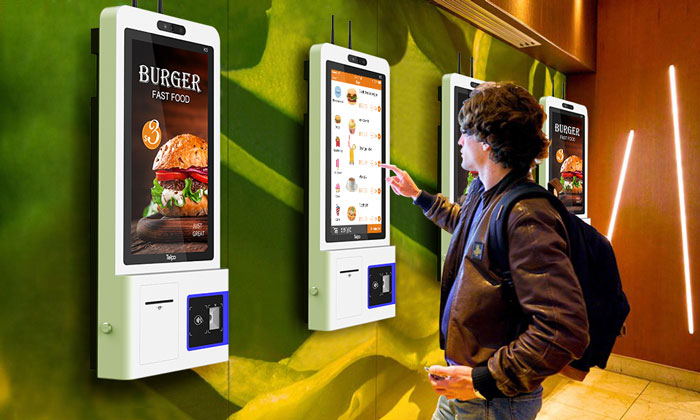 Self-service Ordering Kiosk & Food Delivery Robot Improve User Experience
The popularity of the self-service kiosk is another new technology trend in retail. Affected by the aging population, rising labor costs, and increasing contactless service demand, self-service kiosks became the solution to solve those problems. It is common to see self-service ordering kiosks, self-service cash registers, self-service cabinets, automated vending machines, food delivery robots, and other self-service kiosks used in daily life.
Digital, funny, and touch-free have always been the focus in retail catering marketing. The self-service kiosks allow consumers to enjoy a good ordering and shopping experience and automatically become members in a touch-free and simple way. It also helps businesses to achieve accurate marketing with accumulated sales data.
For example, customers can enjoy an all-in-one ordering experience through Telpo self-service ordering kiosk K5 from choosing dishes, conforming orders, completing transactions to printing the receipt. All information will be displayed on the large screen of the kiosk. And people can choose contactless payment among QR code payment, NFC payment, and face payment. Moreover, the self-service ordering kiosk can connect with the kitchen, POS system, membership system, etc, to achieve member management, increase repurchase rate and elevate operation efficiency.
In addition, the food delivery robots can shoulder food delivery and navigation job during peak customer periods, which reduce the workload of staff, provide novel technological experiences for restaurants and increase the store's appeal to customers.
Just like Telpo food delivery robot R55. In virtue of multi-sensor information fusion and navigation and multi-modal human-computer interaction technologies, Telpo R55 supports plate sensing, obstacle avoidance, automatic charging, multi-point delivery, and other functions.
Once it senses someone is approaching, it can independently lead him to the tables. The three trays with 60kg loading capacity and autonomous path planning make the food delivery robot can deliver multiple dishes to the designated tables after staffs place them on the tray. When it arrives at the table, it will notify the customer to take the meal and then perform the next task.
With the mission of creating a colorful future, Telpo can even provide APP store and MDM platform to help retail businesses quickly download required software and remotely manage store operation, achieve multi-device cloud management, and even customization services.
If you want to grasp the new opportunity and attract more customers in 2022, introducing the popular smart terminal and technology is certainly a good way. No matter the AI visual recognition cash register, self-service ordering kiosk, or the food delivery robot, you can find corresponding terminals and solutions at Telpo. If you want to know more detail, welcome to contact us.
Tag: AI visual recognition cash register, self-service ordering kiosk, food delivery robot