The COVID-19 pandemic has triggered a surge in demand for contactless shopping. Forbes' 2021 State of Self-Checkout Experience Report shows that 60% of consumers prefer self-checkout shopping rather than cashier-assisted options, and 85% of respondents state that self-checkouts are faster than traditional checkouts. Wanna push your business a step further? Telpo's self-checkout solution may help you.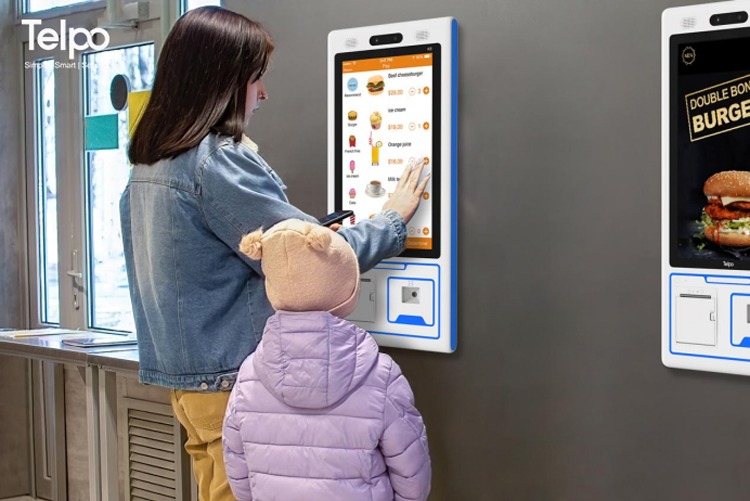 What is self-checkout?
As the name indicates, self-checkout means consumers can scan the product barcodes, make the payments, get a receipt and bag the goods by themselves, without involves of the cashiers. Self-checkout is usually done with the help of self-service kiosks. However, as artificial intelligence technology and sensing technology develop, self-checkout can be conducted without self-service kiosks. For example, Amazon Go keeps to the principle of grab and take, and the bill will be automatically deducted from the consumers' accounts after they walk out of the store, directly skipping the checkout process.
Why self-checkout solution can push your business?
Improve in-store experience
Self-service checkout is usually faster than traditional checkout. Customers have more checkout options instead of only waiting in a long line for a cashier. Besides, self-service kiosks can provide multi-payment, satisfying the diversified checkout needs of different customers. For self-service kiosks to take up less space than checkout counters, your operation sites will look lighter and more spacious, bringing a more pleasurable shopping experience to your customers.
Save more costs
Introducing self-service kiosks can partially or completely replace cashiers, efficiently saving more needs for your business. You don't have to worry about any problems brought by the labor shortage, like high manpower and labor costs, being short-staffed, arranging shifts, etc. You may be hesitant about the costs of purchasing self-service kiosks, but it absolutely is a worthwhile investment in the long run.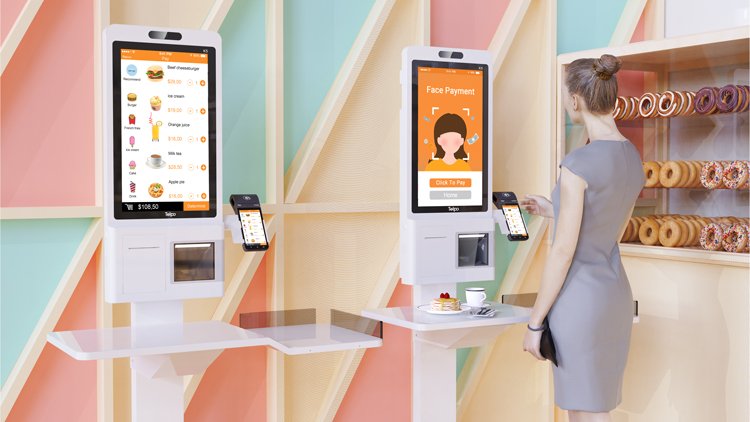 Better records of sales
Introducing self-service kiosks makes your business more digital and you are able to get a better understanding of your business operation. Business data of a variety of products can be automatically generated without any employee involvement, even barcodes of the goods are scanned by customers.
How to select the right self-checkout solution?
Selecting a reliable self-checkout solution is important if you want your self-service kiosks work better. Telpo's self-checkout solution provides you with one-stop service and push your business a step further.
Telpo's self-service kiosks' unique hardware design provides high performance for our business partners. The screen size of Telpo self-service kiosks is optional, including 23.5-inch, 32-inch, and 42-inch. All kinds of self-checkout Kiosks solutions are provided to fulfill business needs such as ordering dishes in a restaurant, search items and self-service checkout in a retail store or supermarket, building up a self-service gas station, etc.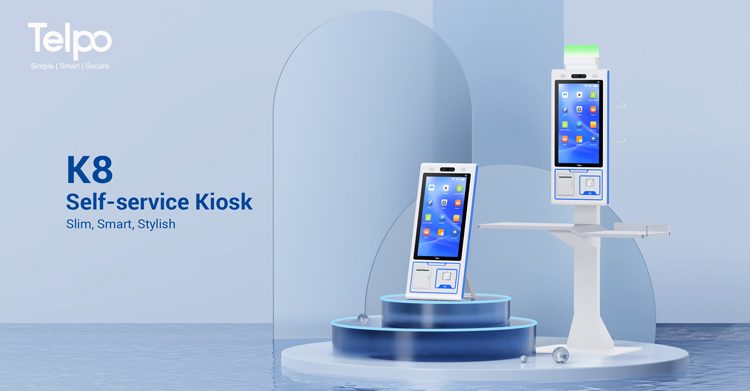 Telpo K8 is lighter, better-looking, and smarter for a better self-checkout experience. With more comprehensive functions, Telpo K8 can be applied in more industries and scenarios and must be a helpful assistant to boost your business.
Features:
Slimmer body saves more. The shell is made of plastic entirely, light, sturdy and durable. K8 weighs only 10.5kg net, dropping by 13kg, and costs fewer transportation fees.
Stable and reliable performance. Android 9.0 OS + Dual-Core 1.8GHz+ Quad-Core 1.4GHz CPU+4GB DDR, 16GB eMMC memory.
Multiple payment options. QR code payment, NFC payment and face recognition payment are supported.
Higher printing speed. Built-in thermal printer with a Japanese Seiko print engine. The printing speed can be up to 150mm/s.
Easy installation and maintenance. Multiple stands are optional, including wall-mounted, desktop and floor-standing.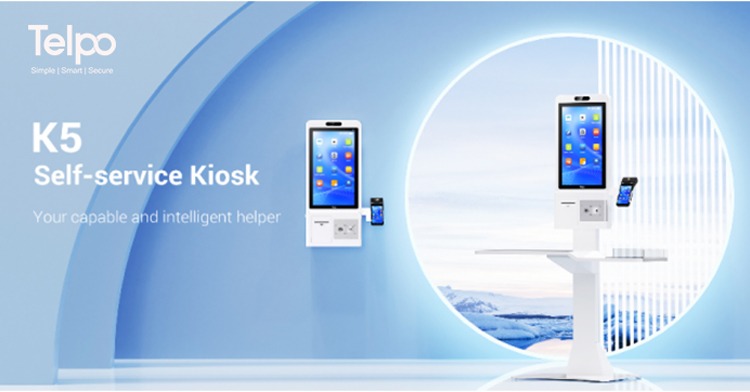 All-in-one Self-service Telpo Kiosk K5
Telpo K5 is an all-in-one self-service kiosk that can be widely applied in many industries, including retail, catering, beauty and cosmetics, health care, etc. Customers' self-checkout experience is transformed by distinguished self-service ordering, self-service printing, and self-service payment experience.
Features:
Clear, sensitive, and durable screen. Equipped with the industrial-grade full HD and ten-point touch capacitive screen, excellent visual and tactile experiences are delivered.
Built-in 80mm thermal printer with auto cutter. The speed of the printer can be up to 170mm/s. Multilingual and clear printing is also supported.
External POS machine. Various payment choices are provided and transactions become digitalized.
Face recognition. Single-lens, dual-lens or 3D structured light camera is optional. Accurate facial identification and easy membership management are ensured by wide enough range of views.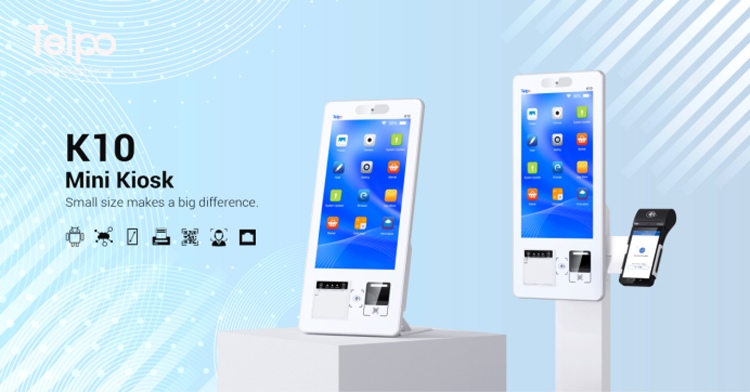 Mini Kiosk Telpo K10
Telpo K10 is a self-service kiosk of small size, which takes up little space and delivers a digital self-checkout experience in even a small shop. Telpo K10 is most suitable for use in small retail stores with lots of goods, for its mini size helps enhance frictionless intuitive engaging of customers.
Features:
Lightweight and small size. Telpo K10 weights only 5.5kg and even one person can pick it up easily. It is half less than a traditional self-service kiosk and takes up less space.
Multiple functions. Compact design makes Telpo K10 provide full functions though it's of small size, delivering smooth and efficient self-service ordering, self-service scanning, self-service checkout and self-service printing experience.
3D face recognition camera. Every face can be recognized by precise positioning and features-capturing. Quick and accurate face recognition payment is also supported.
Self-service payment. Built-in fully certified payment module accepts any current mainstream payment methods.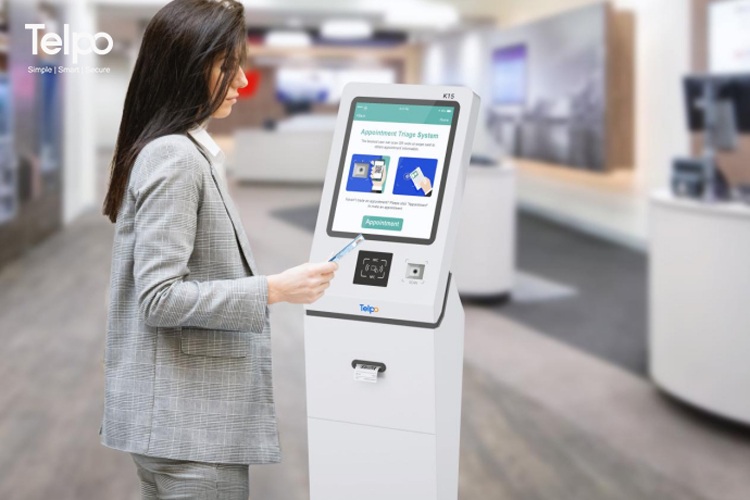 Queue Kiosk Telpo K15
Telpo K15 is a queue kiosk which is committed to improving smart public services in self-queue and ticketing. Telpo K15 can be applied in banks, hospitals, restaurants and business halls, and other public places, empowering speedy reservation and queue management.
Features:
17-inch HD capacitive screen. The appointment number can be clearly displayed. Flexible operation and fast response can be ensured, as well.
Efficient identity collection and verification. A variety of contactless verification methods are available, including NFC cards, QR codes, face recognition, and fingerprint.
One-stop customized service. Telpo provides excellent customized services and after-sales support.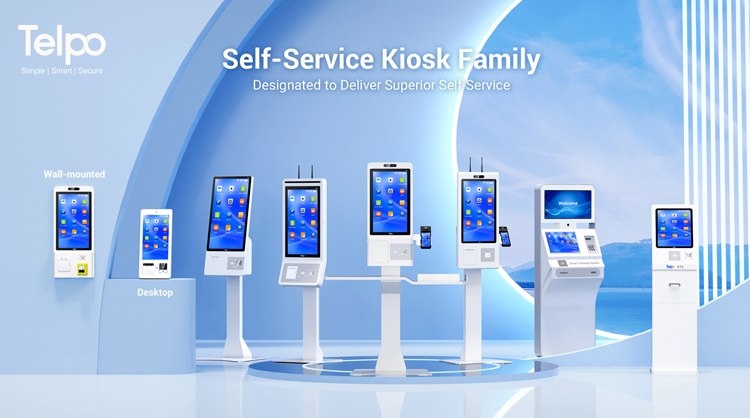 About Telpo
Founded in 1999, Telpo is a world-leading smart security terminal and solution provider. To better provide services for customers worldwide, Telpo has set up offices in India and Russia as well as branches in Hong Kong, Nigeria, America, and Sri Lanka. In virtue of 22-year professional project experience and strong market recognition, Telpo products have served more than 120+ countries and established strategic cooperation with telecom operators, governments, banks, Internet companies, and other world-renowned companies. Welcome to contact us for more details.
Tag: self-checkout solution, self-service kiosk, self-checkout