Traditional cash registers may not fulfill the comprehensive needs of operators in produce markets, fruit shops, bakeries, etc., where weighing and counting are frequently needed. As technology develops, the

cash register with scale

is released, and the weighing scale can be built into the smart cash register, bringing more benefits to your business operation and management.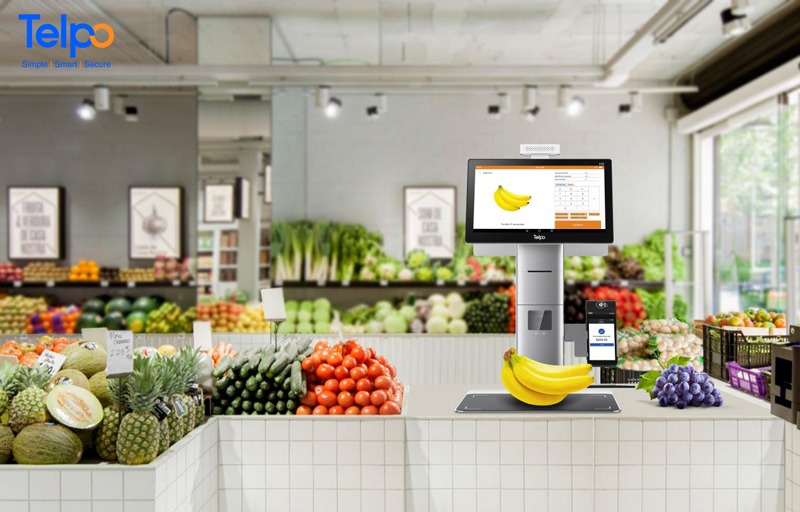 Traditional weighing and checkout process
The traditional weighing and checkout process typically goes through four steps.
Step1: Customers bring the items to be weighed to the weighing station.
Step2: A specialized staff weighs the items with an electronic scale.
Step3: The staff prints out the bar code with the price and stick it on the item.
Step4: The customers bring the items to the checkout counter and check out.
Although customers don't have to walk around with the items to check out in small fruit stores and bakeries, the process of weighing and checkout still can be complicated, inefficient and error-prone for cashiers. Luckily, an intelligent cash register with a weighing scale built-in helps solve these troubles.
Cash registers with scale simplify the weighing and checkout process. The customer or the cashier just needs to put the items on the weighing scale built into the cash register. Then, the intelligent cash register can automatically identify the items and display the weight and price on the screen. The checkout process can be done in a short time.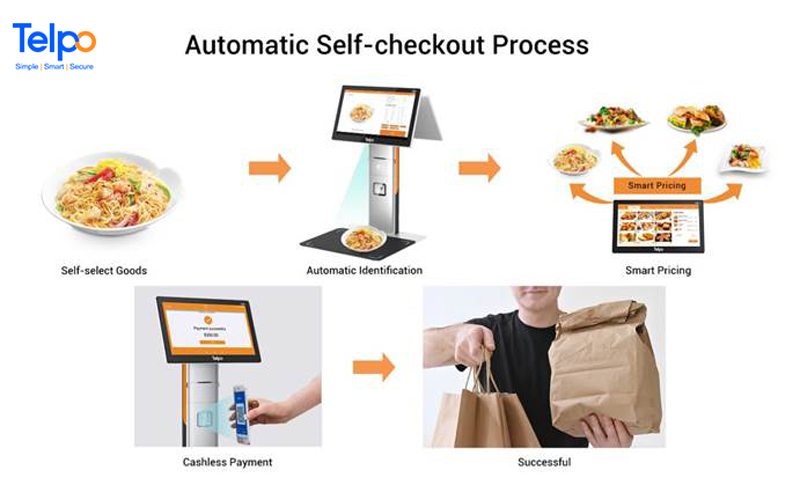 How does an intelligent cash register with a weighing scale benefit your business?
Cost saving. After introducing a cash register with a weighing scale, the weighing process is simple for customers to operate independently. The specialized staff who is responsible for weighing the items is no longer needed, and the number of cashiers can also be reduced. In addition to the human cost, material cost is reduced, too. The intelligent cash register can display the weights and prices and customers can check out through the cash register directly, the bar codes with prices are saved, which makes checkout more cost-saving and environmentally friendly.
High efficiency. With a traditional cash register, the customers have to weigh the items in the fresh district and bring the items to the checkout counter to check out. They even have to line twice in rush hours. Introducing a cash register with a weighing scale makes the weighing and checkout process no longer a trouble for both customers and cashiers. What's more, the item prices have been set in the cash register and the prices can be automatically counted, so manual identification and price entry are not necessary anymore, which greatly reduces human errors.
Intelligent management. The cash register with a scale can bring more benefits to your business management. It helps intelligently manage your commodity inventory, adjust the prices, hold promotional activities, conduct membership management, etc. Besides, the intelligent cash registers that support various mobile payment methods make your business more digital.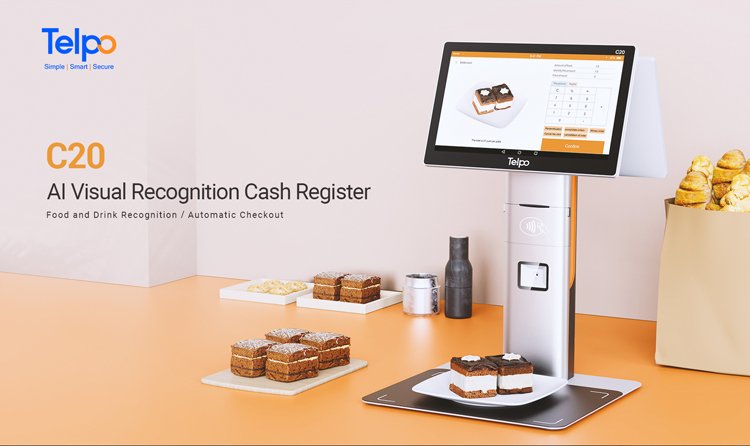 Telpo C20
Telpo C20 is an intelligent cash register with a scale that can recognize the items accurately and quickly, support various mobile payments and efficiently speed up the checkout process. Customer experience is improved,they can enjoy one-step service including weighing, checking out, and printing receipts, and greatly save their time walking back and forth.
Features:
Wide angle object recognition camera makes efficient scanning. Products can be scanned quickly and accurately, which makes checkout time-saving.
Large storage space makes smart searching. All kinds of image data can be stored and thus images of different products can be identified intelligently.
Multiple cashless payment methods make convenient checkout. Consumers don't have to pay for the order and pick up their products in hurry. Telpo C20 supports payment by member card, face, QR code, and so on, providing as much convenience as possible.
Founded in 1999, Telpo is a world-leading smart terminal and solution provider. To better provide services for customers worldwide, Telpo has set up offices in India and Russia as well as branches in Hong Kong, Nigeria, America, and Sri Lanka. In virtue of 22-year professional project experience and strong market recognition, Telpo products have served more than 120+ countries and established strategic cooperation with telecom operators, governments, banks, Internet companies, and other world-renowned companies. Welcome to contact us for more details.
Tag: cash register, cash register with a weighing scale, intelligent cash register