At present, the anti-epidemic condition seems more complicated as confirmed cases ups and downs, driving all walks of life carefully accomplish identity and health screening work. Among them, staying at home or staying at the hotel for medical observation is quite crucial but tough.

Honestly speaking, it will cause a host of problems if manual check individual's identity and health status, such as dynamic management difficulty, manpower shortage, high management costs, high infection risk, etc.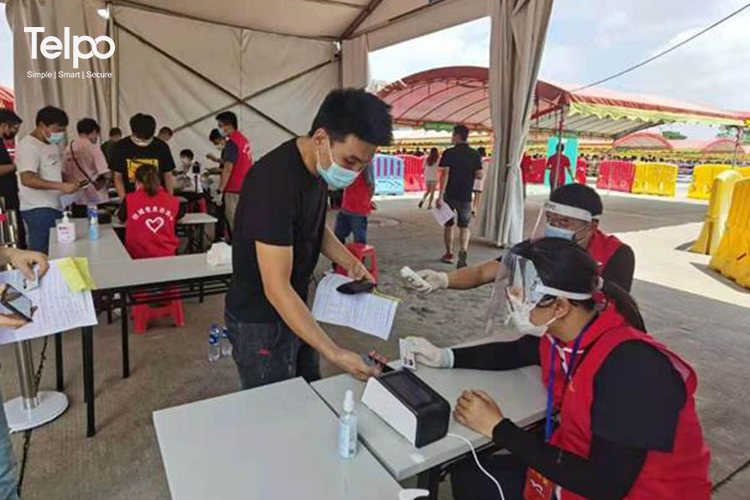 Given that, electronic ID sentries, the multi-functional device for automatically identifying passers' real-time temperature, health code, vaccinate certificate, identity,

etc

have been installed at all walks of life, in response to creating a safe and hygienic environment.




Feature:

Multi-function: Temperature screening, health code or vaccine certificate recognition, identity identification, mask detection, and other anti-epidemic measures are available.
Accurate: The cutting-edge decoding technology and live detection function empower accurately identify individual's identity and prevent the attack from the photo, video, fake vaccination, nucleic acid proof, etc.
Convenience: ID card reading, health code scanning, or face swiping is supported, delivering convenience to the elderly and children. Abnormal conditions will activate the alarm to remind management personnel of timely disposal.
Flexible: Specific anti-epidemic measures or screening conditions can be flexibly set according to the actual demand. Standing-alone, gate, desktop, the wall-mounted bracket is optional for easy move and installation.
Digitize: Data can be uploaded to the platform that you require synchronously, which is conducive to follow-up tracking and remote monitoring on-site conditions.




Telpo Electronic ID Sentry Cases

With the mission to create a colorful future and strive to boost the efficiency of identity and health screening, Telpo rolls out a series of electronic ID sentries and applied them at various places.

Vaccination Center

The vaccination center requires the citizen to verify identity, fill in health information, detect temperature and display health code before getting the vaccination. Telpo electronic ID sentry TPS508 supports ID/NFC card reading, health pass (QR code) scanning along with voice broadcast, and indicator light. Moreover, it can connect to various health certificate apps to verify identity identification and data accuracy.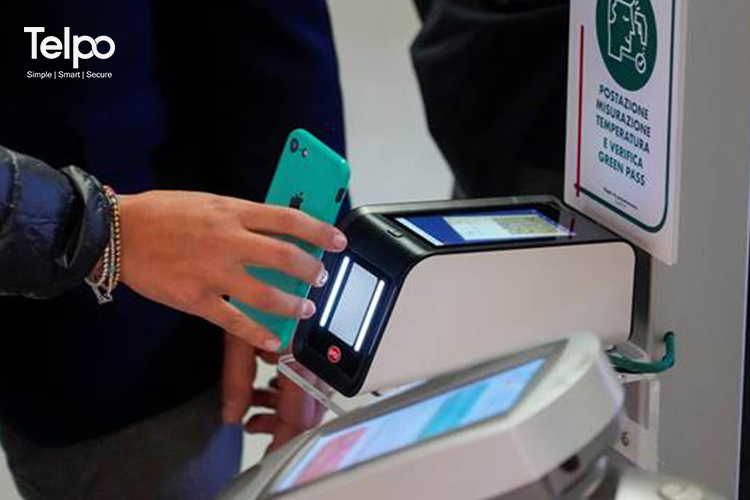 Government Affair Hall
Telpo electronic ID sentry TPS508 was installed at the government affairs hall. People only need to put their ID card at the green pass scanner, and then their information of green pass, vaccination, nucleic acid testing result will be displayed on the screen within seconds. Even seniors who fail to use a mobile phone or don't have a green pass can also effectively and accurately prove their health status.
Office
Employees require to check his vaccination by the electronic ID sentry TPS508 at the entrance of company office. People can show their vaccination proof before the electronic ID sentry, which will activate QR code technology to verify the reality of vaccination information within a second. After that, the scanned data will be matched with the approved platform to validate the accuracy and inform the status.
Railway Station
The Guangzhou Railway Station introduced Telpo electronic ID verifier sentry F8 that supports digital certificate verification and contactless temperature measurement. Citizens only need to place their ID card on the digital certificate verification device, and then their personal information such as digital health certificate, nucleic acid test results will be displayed on the screen. Once the verification result comes with a green code and normal temperature, then they can enter the station. The whole verification process only takes a few seconds.
Hospital
Citizens should make an appointment, display a health pass, and detect temperature before entering the hospital in a bid to ensure a safe hospital environment. Telpo ID sentry TPS980T supports face recognition, ID/NFC card reading, digital pass verification, temperature detection, and other functions to make people easier to prove their health status.
School
The school introduced Telpo electronic ID verifier sentry at the entrance. Students can scan their face, QR code, or swipe ID card in front of the device at the school gate, which will automatically carry out contactless temperature screening and face comparison. Once face information is matched with the approval school database and the digital health certificate is successfully verified, the gate will automatically open without human checking.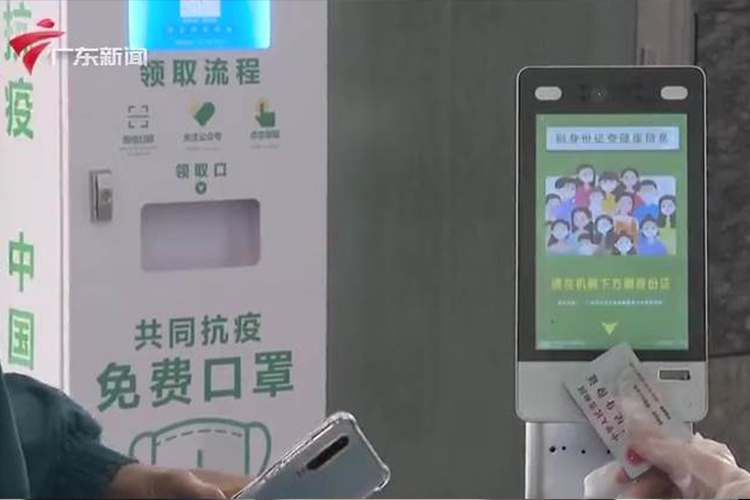 Industrial Park
The electronic ID verifier sentry allows the industrial park to check and trace personnel access dynamics at any time through the platform and enjoy face recognition, temperature measurement, contactless identity verification those convenient and anti-pandemic services. Only the individual's face information is matched with the approval database, he can enter the industrial park.
World 5G Conference
The world 5G conference 2021 recently opened in Beijing. To ensure the smooth holding of the conference, Beijing Unicom cooperated with Telpo jointly launched the all-in-one epidemic prevention solution. Telpo electronic verifier sentry F10 is a multi-functional terminal that supports face recognition, ID card/healthcare card/seniors card reading, and contactless temperature screening. Combining with the middle epidemic platform, across district data collation can be done.
Alibaba Cloud Summit
2022 Alibaba Cloud Summit installed Telpo electronic ID sentry TPS980T people only need to stand in front of the Telpo facial recognition scanner. And then the machine will automatically activate the facial recognition camera, capture people's facial features, and compare the scanned facial information with the facial photo that attendance uploaded to the platform in advance. Within a second, Telpo electronic ID sentry will present the verification result on the screen with a voice broadcast.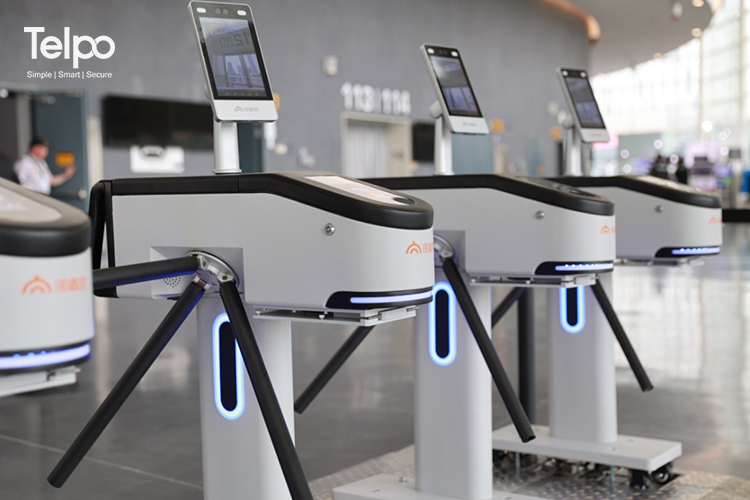 Sports Center
The Shanghai Oriental Sports Center installed Telpo electronic ID sentry F2 that supports face recognition, liveness detection, and QR code scanning in a bid to improve attendees' identity identification efficiency and maintain proper social distance. Attendance can upload their facial photos to the system in advance. Once their facial feature captured by the device is matched with the approval face database, the gate will automatically open.
Nowadays, it is necessary to do a good job in anti-epidemic measures including temperature measurement, health code verification, nucleic acid certification verification, and quickly and accurately screen high-risk groups, so as to ensure the smooth business operation and maintain a healthy and safe social environment. Telpo electronic entry can help you make it out. If you want to know more details, welcome to contact us.
Tag: electronic sentry, Verifier Sentry, ID Sentry