Along with the EU Digital COVID Certificate Regulation entry into force on 1st July 2021, many European countries have announced respectively local health passes and made it mandatory to show for access to certain public places.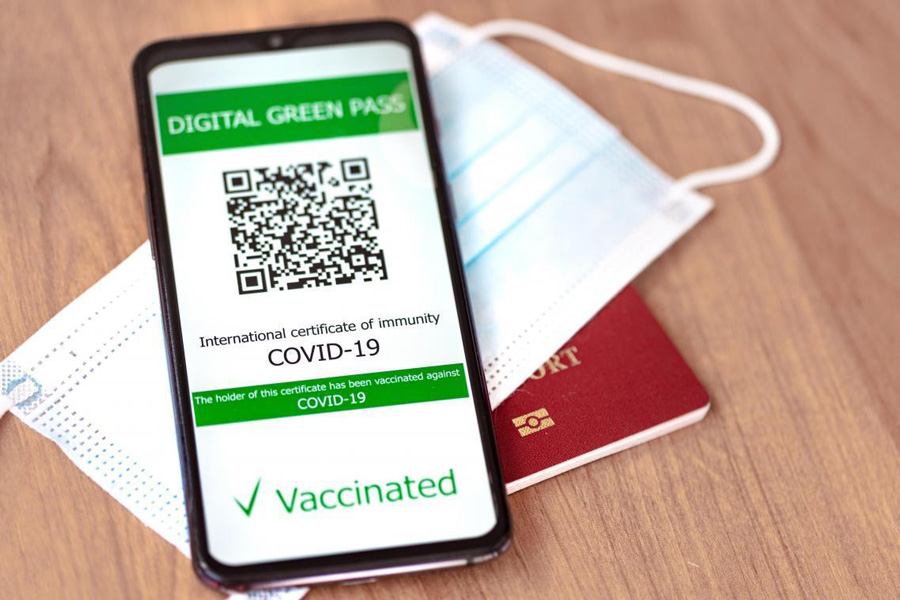 In France, a compulsory passe Sanitaire (health pass) for access to cultural and leisure venues has already come into force on July 21. Individual should use the valid health pass to prove they are vaccinated or have tested negative for Covid-19, otherwise, they might be fined €135 for a first offense. And the health pass requirement will be extended to a large scope after August.
As an e-certificate that stores and records vaccination and COVID-19 test status, the health pass allows vaccinated people to prove their health credentials at the scan of a QR code. It is not only good to reduce the risk of virus spread but only conducive to boost cross-border businesses and tourism development.
Guided by the successful experience of health code solutions in China, Telpo launch a health pass solution so as to help various public scenes do well in verifying individual vaccination status at the entrance.
What is the health pass solution?
The health pass solution contains diversified products include handheld, desktop, gate, stand-alone in a response to multi-scene demands. On the basis of digital or paper QR code recognition, face recognition, mask detection, temperature screening, voice broadcast and other functions are also available.
Moreover, it supports multi-languages include English, Italian, Spanish, French, etc to satisfy extensive language requirements. We can provide all-in-one health pass verification solution to make it put into use as soon as possible.
How to verify the health pass?
Step one: Show your digital health pass in front of the QR-code scanner
Step two: The health pass scanner will automatic scan and decoding the QR code
Step three: Compare the scanned data with vaccination information stored at the approved database
Step four: Display the verification result at the screen along with voice broadcast
What kinds of health pass verification devices?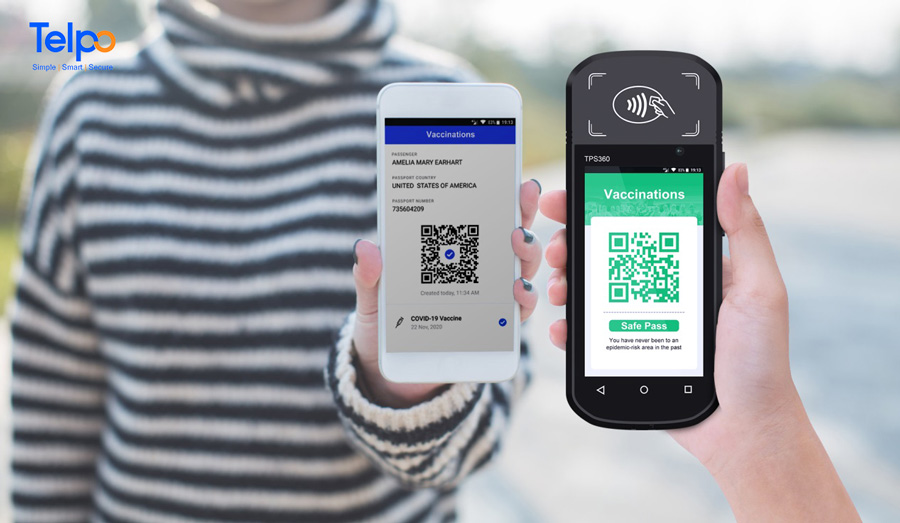 Mobile Vaccinated Pass Code Verification Terminal TPS360T
l Camera for vaccinated pass scanning.
l Contactless temperature measurement + voice broadcast + high-temperature alarm
l ID card & driver license & passport identification
l Paperless + visualization + cloud platform management
l Easy to carry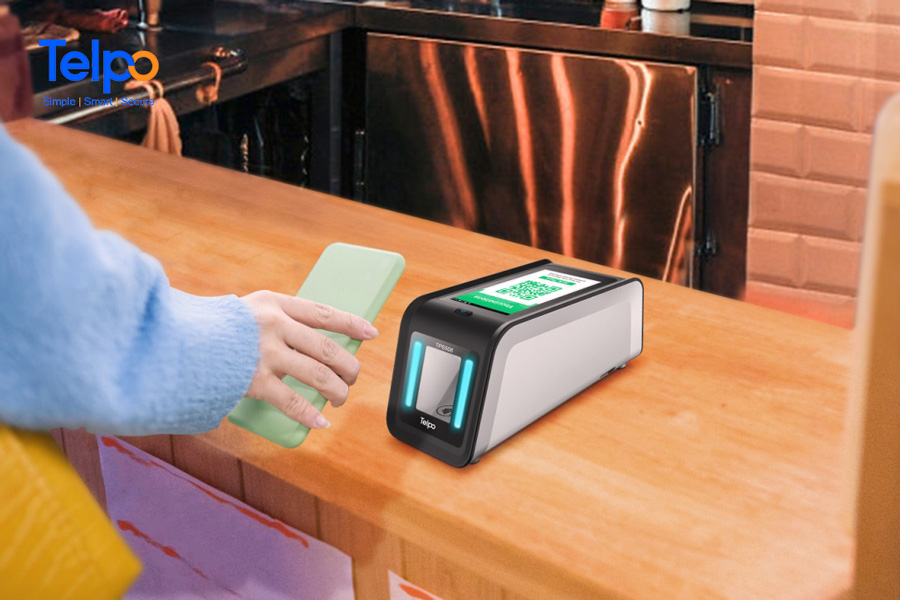 Digital Health Pass Scanner TPS508
l Automatic QR code recognition, reduce personnel infection
l Screen+ voice+ indicator light triple remind vaccination status
l 58mm printer for timely printing verification results
l QR scanner + NFC card reader
l Effectively check or upload mobile personnel health information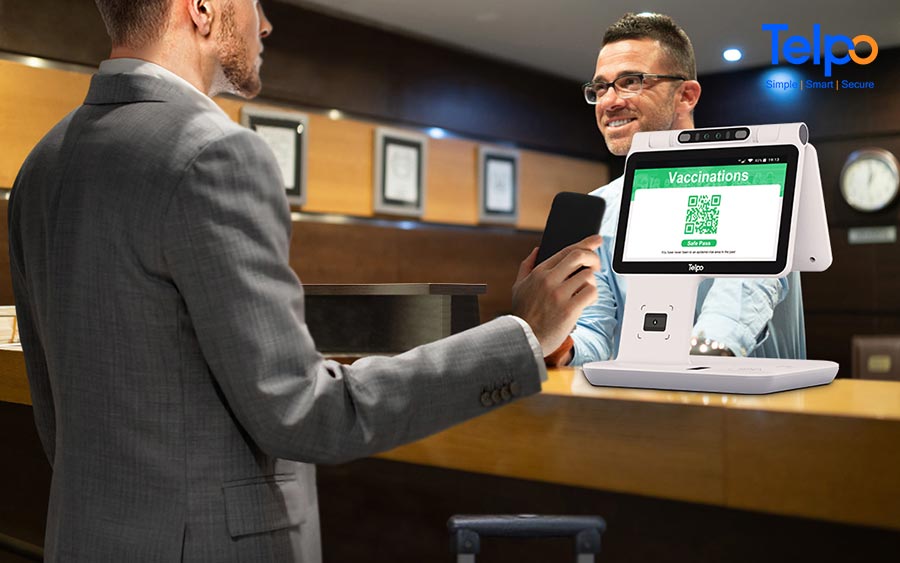 Dual Screen Vaccinated Pass Verification Device l D2
l Dual 10-inch screens for displaying different information
l The 180°rotated camera + QR scanner + face recognition
l Built-in NFC module supports mainstream chip card reading
l Built-in thermal printer, timely print vaccination certificate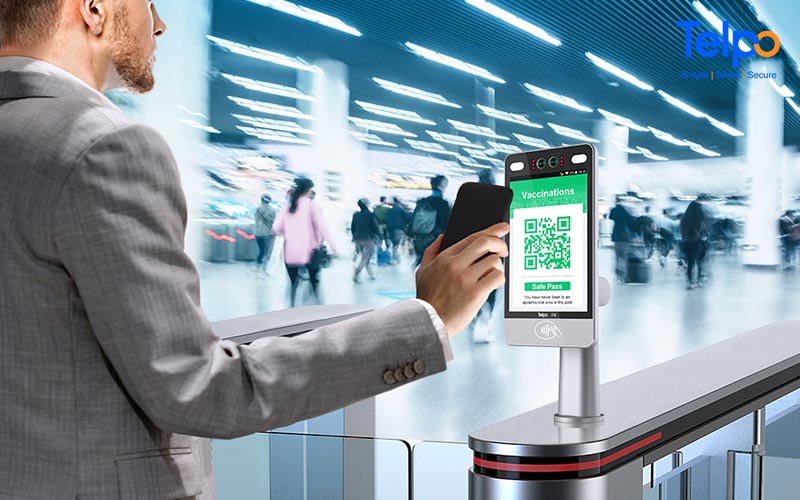 Health Pass + Mask Detection Terminal F8
l Linux OS & Android OS optional+ superb AI vision processor
l Face recognition+ make detection+ temperature screening (optional)
l QR scanner + RFID card reader + SIP Voice Intercom
l Suitable for an indoor and outdoor scene with IP65 rating
l Rich brackets and interfaces for flexible deployment
Nowadays, Telpo health pass verification devices have widely used at the vaccinated places include communities, hospitals, healthcare center, etc., which gained strong recognition and praise.
Tag: QR scanner, health pass, vaccinated pass, health pass scanner, health pass solution
Brief Introduction: Founded in 1999, Telpo is a worldwide first-rate smart terminal and solution provider. It mainly provides EFT-POS, cash registers, biometric devices, facial recognition machines, self-service kiosks, and bus validators. Telpo has served more than 1000 customers abroad, including government, banks, Telecom operators, police stations, Retail shops, and offices. Telpo adheres to R&D and innovation, aiming to provide more intelligent hardware for global partners.