Amid the epidemic prevention normalcy, greenpass or digital certificate verification and identity identification graduallybecome an indispensable part for people to enter public places. Inspired by theidea to improve verification efficiency, Telpo rolled out various solutions inresponse to different places' actual demand.
GreenPass Verification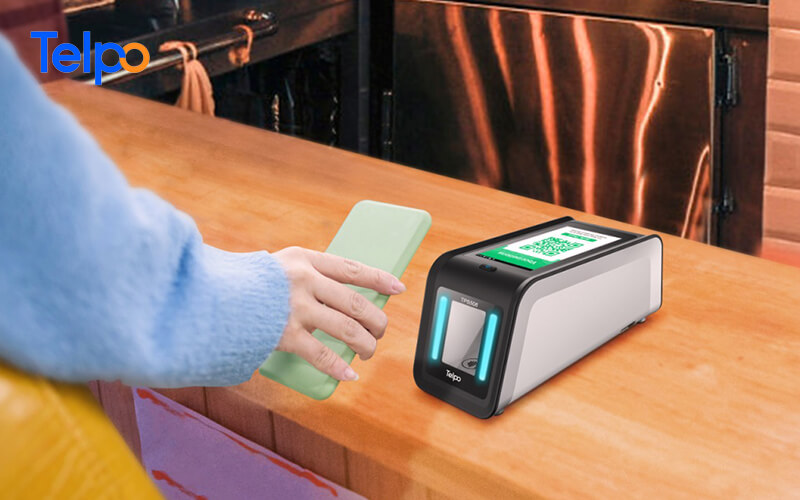 TPS508 is often used for desktop scan code verification.

As vaccination is proved to be theeffective tool to guarantee public health, thus many public places requirepeople to display their green pass before entering the venue. However, it ishard to artificially identify whether the green pass is expired or forged, whichis easy to make inaccuracy health status judgment and effect effective epidemicprevention.
In order to improve green pass vaccination certificateverification accuracy and efficiency, Telpo launched desktop green pass QR codereader TPS508. Personnel only need to display their green pass in front of the greenpass QR code reader at the entrance, and then decoding data will beautomatically matched with officially vaccination records and verificationresults will be displayed at the screen with voice broadcast. The whole processcan be done by oneself. In this way, staff can quickly and accurately verifythe green pass and complete the electronic collection.
GreenPass Verification + Temperature detection
For places require checking green pass and temperaturedetection, the QR code access control device TPS950 that supports vaccinecertificate verification and make detection would be a good choice. Connectingwith the access control system, it can realize 24-hour unattended work, reduce theworkload of security personnel and the risk of infection.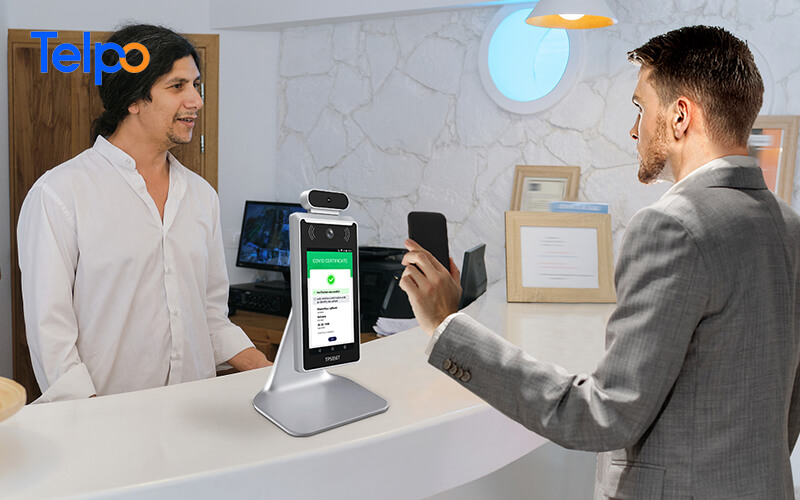 QR code access control device TPS950 in office front desk.
Telpo TPS950 access control terminalsupports self-scanning green pass, reading NFC card as well as mask detection. Whenthe QR code verification process is done, the access control system allows orblocks entry to the person who presented the valid or expired digital certificate.In addition, data will be reported to the platform in real time to facilitatedata analysis and management.
Digital Certificate Verification +Temperature Screening
Forplaces require digital certificate authentication and temperature screening,the terminal support QR code scanning and contactless temperature screeningcould say to be the best combination. The whole process could be done byoneself, greatly alleviate security staff workload and enhance epidemicprevention quality.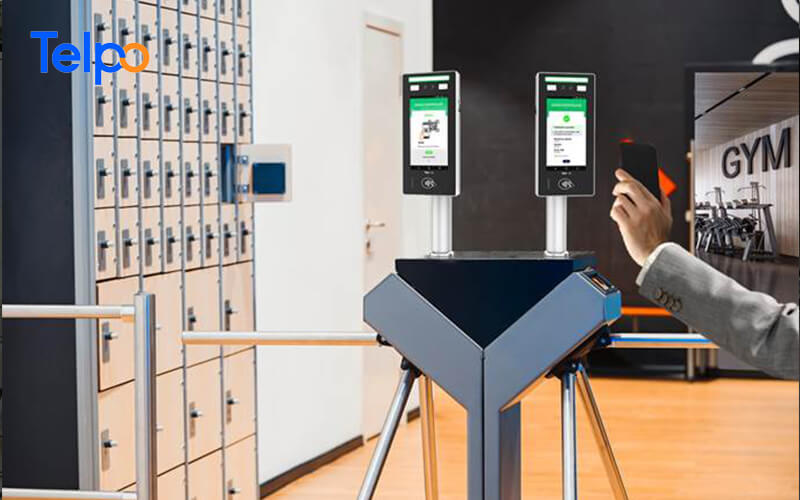 Telpo F6 installed to gym access control and digital certificate scanner.
Telpomulti-functional digital certificate scanner F6 supports self-scanning QR code,reading IC/NFC/HID card, video intercom as well as temperature screening. Datawill be synchronously reported to the platform for data analysis, remotemonitor and follow-up tracking. Only personnel with normal temperature andverified digital certificate could activate the gate and enter the venue.Otherwise, they need to recheck relevant information by staff again.
VaccinePassport Verification + Temperature Screening + Face Recognition
When it comes to identity registration and datatraceability in large crowd places, green pass vaccine passport verification, facerecognition and temperature screening certainly be the best epidemic preventionsolution. As it can quickly and accurately carry out identity identificationand temperature screening, personnel gathering and close contact will begreatly reduced.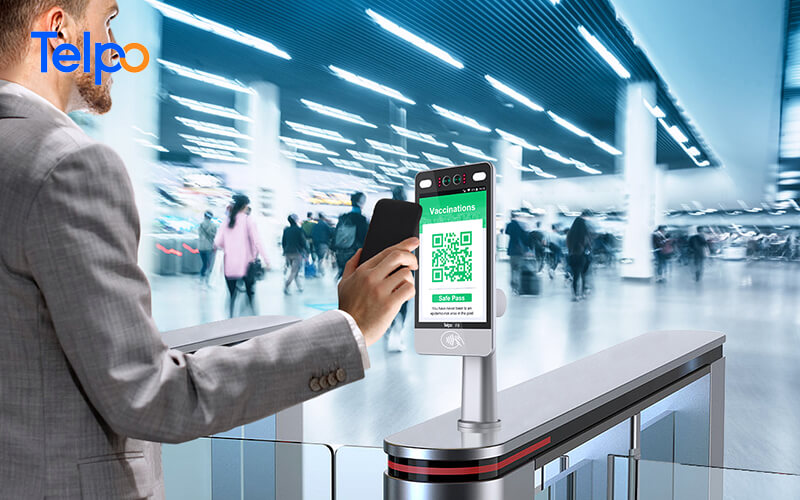 Big screen biometric device F8 is suitable for public transportation.
In virtue of advance temperature module anddeep learning face recognition algorithm, Telpo big screen biometric device F8 ableto automatically detect personnel forehead temperature while identifying individualidentification. If high temperature or fake certificated is detected, gate willblock, alarm mechanism will be activated and alert email will be sent fortriple remind.
NFC/ICCard Reading
Using high-tech might be a hard task forchildren and the elderly because some of them might lack a mobile phone or don'tknow how to use. In this way, reading NFC/IC card can be an additional choicefor identity verification and health status checking. User-oriented andfriendly design is conducive to ensure comprehensive carry out epidemicprevention measures.
With the mission of creating a colorfullife, Telpo takes its advantage of technology strength and able to provideprofessional solution based on the actual demand. Currently, Telpo smart solutionshave widely used at offices, schools, communities, hospitals, government hall,vaccine center and other places. If you want to know more details, welcome tocontact us.
Tag:Telpo, green passverification solution, green pass QR code scanner, vaccination certification verification