Being in the millennium, customers' attitude is shifting towards contactless service and visual enjoyment. The traditional cash register can no longer satisfy their pursuit of high-tech and digital experience.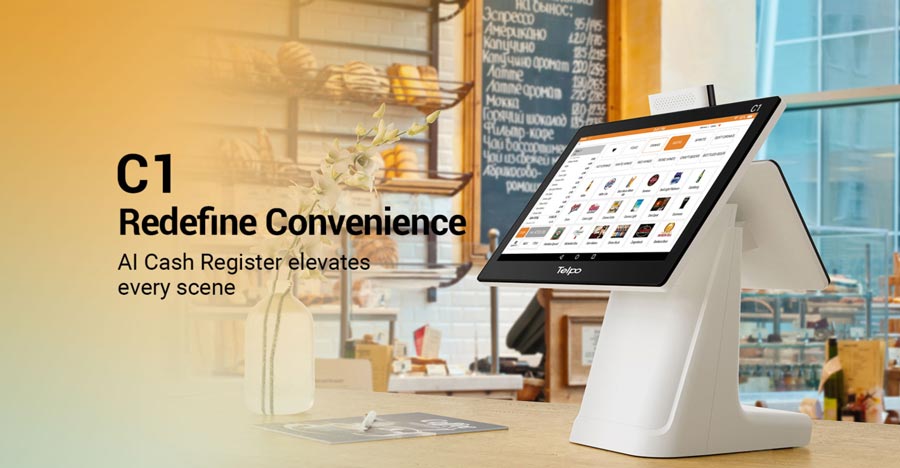 Against the backdrop, Telpo developed AI Android POS C1 in virtue of face recognition and voice recognition so as to satisfy customers' changeable consumption ideas and promote retail growth and recovery.
High Configuration, Superb Performance
The Android 9.0 system, dual-core processor with large capacity memory makes the touch POS faster system operation, stronger expansibility, and better user experience. SDK can be provided to make operate and develop more easily.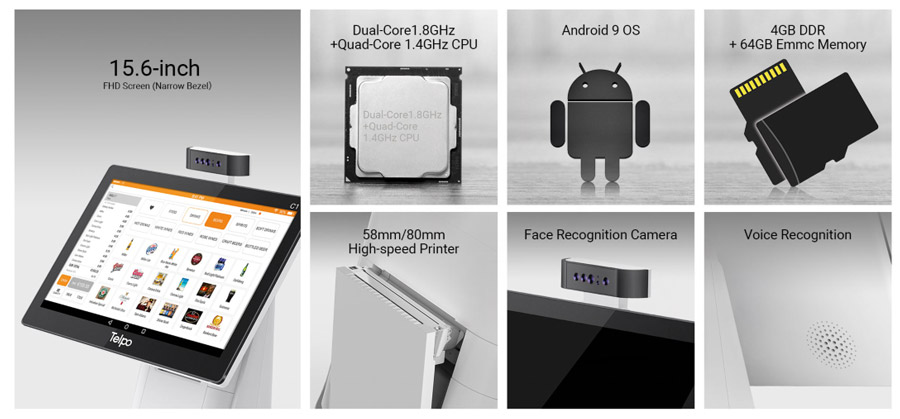 Features of Telpo C1
Concise Appearance, Multiple Screens (optional)
Along with arc design and concise appearance, greatly reveal the premium image of android touch POS. Superior interaction can be made as the 15.6-inch main display can make different combinations with 10 or 15.6-inch customer display and nixie tube. A single screen is also available. Rotating screen with 1920 × 1080 high resolution enables clear content display and makes the different height of customer convenient to use.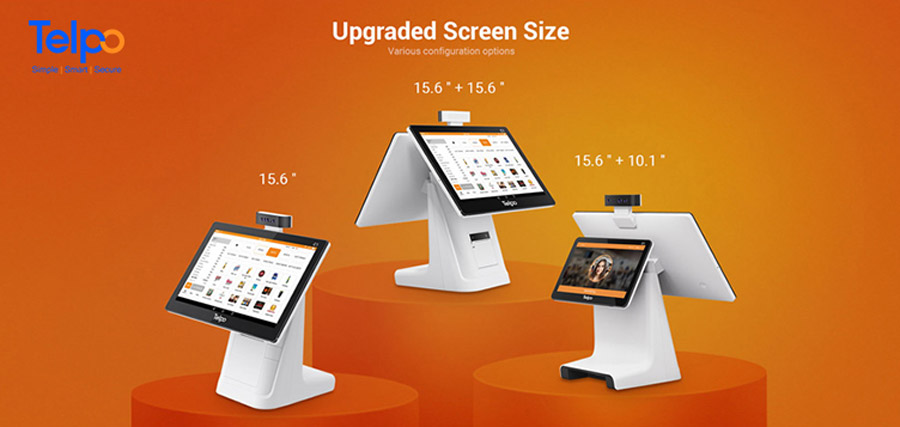 Upgraded Screen Sizes
Face Recognition, Accurate Capture
Equipping with a 3D structural light camera, the smart cash register can accurately locate key areas to capture face features, resist all kinds of forged attacks and realize financial FR payment levels. The advanced face recognition technology empowers efficient membership verification and management, enhances customer loyalty.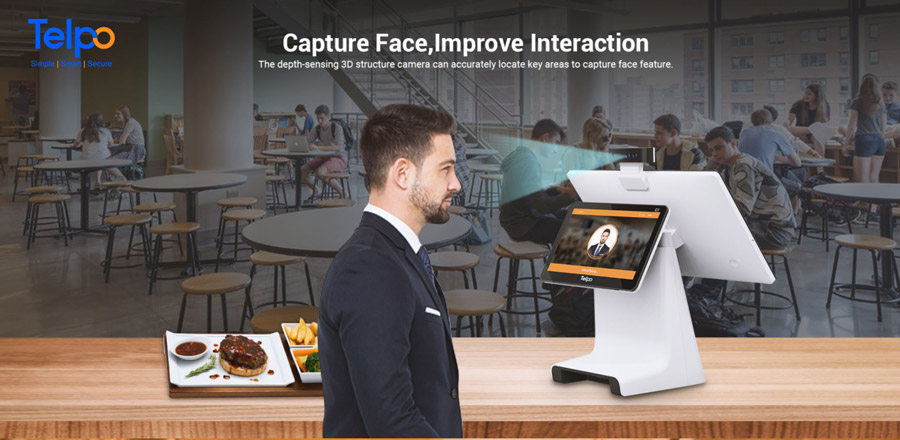 Telpo C1 has Face Recognition Camera
Voice Recognition, Promote Interaction
In virtue of voice recognition technology and an intelligent algorithm, cashier voice input, customer self-service voice interaction, real-time voice translation, and standardized voice assistance can be achieving. It is conducive to create a new voice checkout scene and improve customer experience.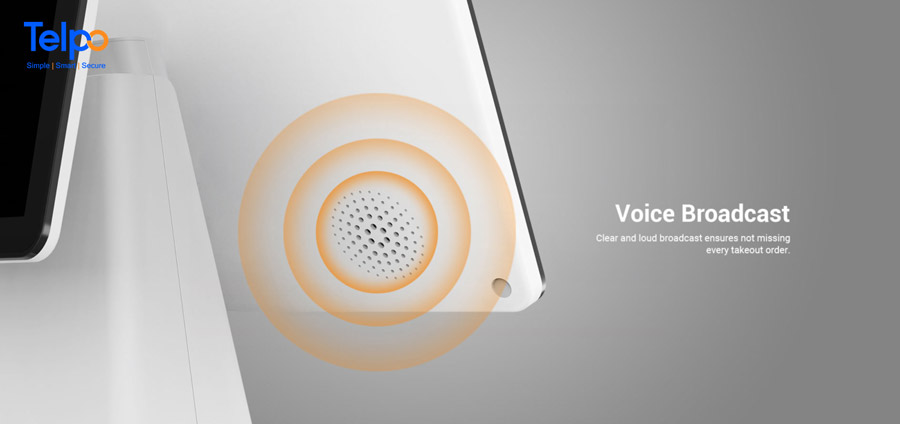 Voice Broadcast of Telpo C1
One-stop Operation, Optimize Experience
Combing with monocular/binocular /3D camera optional and inbuilt 50/80 mm thermal printer, Telpo C1 can provide efficient checkout process from membership verification, commodity scanning, touch-free payment (QR pay/face pay/NFC pay) to receipt printing with voice broadcast. It is conducive to improving checkout efficiency, enhancing store marketing, and optimizing the customer shopping experience.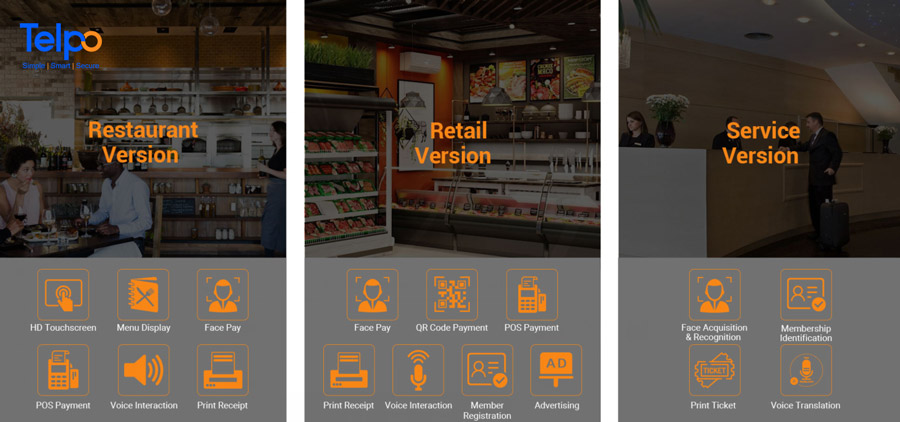 Rich Interfaces, Strong Expansibility
As USB, RJ11, RJ12, RJ45, and other interfaces are supported, thus external accessories such as barcode scanner, cash drawer, EFT POS, etc can be connected. Equipped with Telpo MDM and Telpo store, remote update, commodity management, store maintenance, and other services can be enjoyed. Customization is also available, which is suitable for new concept stores, restaurants, self-service supermarkets, and other scenes.
Tag: Telpo C1, android pos, AI pos, touch POS, face recognition, voice recognition, retail
Brief Introduction: Founded in 1999, Telpo is a worldwide first-rate smart terminal and solution provider. It mainly provides EFT-POS, cash registers, biometric devices, facial recognition machines, self-service kiosks, and bus validators. Telpo has served more than 1000 customers abroad, including government, banks, Telecom operators, police stations, Retail shops, and offices. Telpo adheres to R&D and innovation, aiming to provide more intelligent hardware for global partners.
Related Products: C1