If you think retail touch POS or Point of Sale system just refer to sales and return transactions, it would be a big misconception. Tracking inventory, scanning products for a systematic entry are just some of the basic performance by the touch POS. At the post-epidemic period, every brick–and–mortar business should possess a touch POS to ensure seamless operation workflows.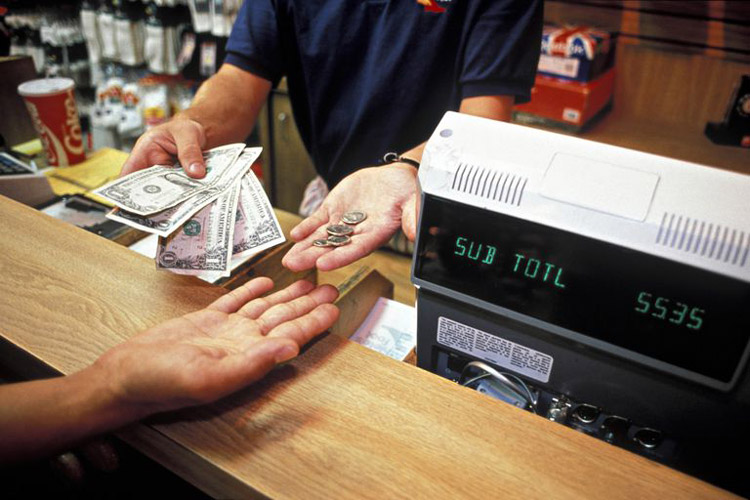 Background
The touch POS hardware is the physical tool to make POS software perform smoothly and available, such as printing receipt through a printer, scanning the barcode with a scanner and accepting Aadhaar payment through a card reader. Contactless payment is popular nowadays, thus if customers hopes to enjoy QR payment, the relevant payment entry should be revealed, against the itemized bill payment.
Certain communication protocols are programmed into the device assembly to make components stay independent and work in synchrony. This is also the reason why Telpo offers hardware SDK to allow you make secondary development and fully leverage the power of software.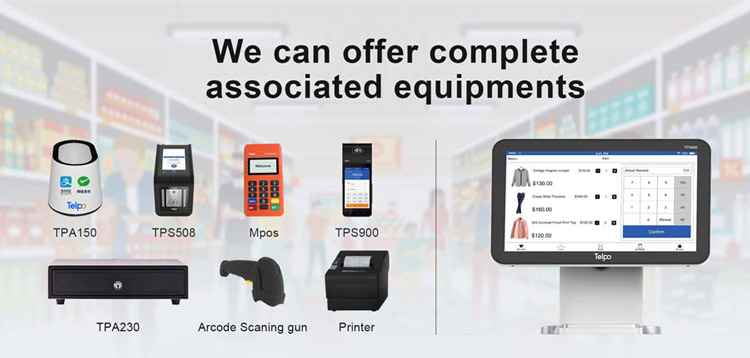 Telpo all-in-one Touch POS solution
Components of the POS
Credit Card Terminal
Credit card terminal is a necessary channel to ensure credit card transactions, thus it is also an indispensable component for the retail touch POS. It allows consumers to present their debit or credit cards for Aadhaar payment and also accepts contactless payments such as NFC.
Receipt Printer
It is common and reasonable to provide a receipt record at the end of a transaction. Along with a list of items, pricing, quantity and total price printed at the receipt, customers can clearly know what they purchase and use it as proof of purchase. If require, merchant can print customized content like merchant logo, QR code as another form of propaganda.
Cash Drawer
When it comes to cash payment, we needn't to mention the importance of a cash drawer. It is a consensus. When the customer pays cash, the counter staff can enter the amount manually into the system. The drawer senses information and opens automatically to enable staff render the exact amount on the system.
Barcode Scanner
Every checkout process involves a barcode scanner to read the commodity code, which may be handheld providing employee with the flexibility of movement or a stationary scanner placed on the table. You could choose the appropriate base on your retail outlet counter space or personal favor.
Telpo all-in-one Touch POS solution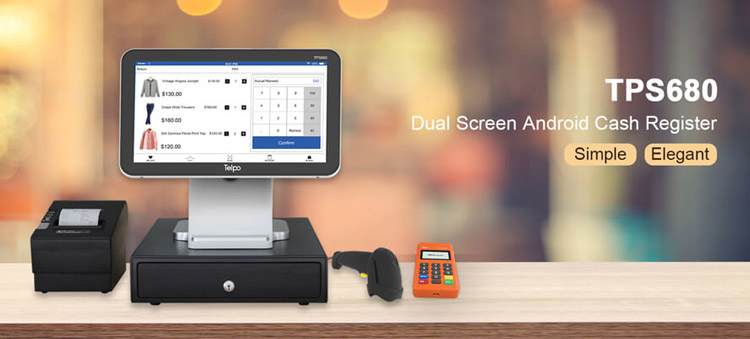 Designated for fast deployment and secure transaction, Telpo design an all-in-one retail touch POS solution. The touch POS hardware TPS680 supports three display sizes (15.6"+10.1", 15.6", 15.6"+11.6") and two versions (Android, Windows) with high performance processor. Different contents can be shown at various screens if you require.
What makes thing better, we can provide a complete set of accessories include printer, Mpos, barcode, cash drawer, etc and POS software contains duducow, square, loyverse, etc. In this way, commodity information, checkout status, advertising promotional, track inventory, Aadhaar payment, QR payment or so on effects are available, which is conducive to help you reduce development time and immediately put into use and operation.
Tag: retail touch POS, touch POS hardware, track inventory, Aadhaar payment, POS software, India
Brief Introduction: Founded in 1999, Telpo is a worldwide first-rate smart terminal and solution provider. It mainly provides EFT-POS, cash registers, biometric devices, facial recognition machines, self-service kiosks, and bus validators. Telpo has served more than 1000 customers abroad, including government, banks, Telecom operators, police stations, Retail shops, and offices. Telpo adheres to R&D and innovation, aiming to provide more intelligent hardware for global partners.