More advantages of self-service kiosks have been discovered by merchants and customers. On self-service kiosks, customers enjoy a more convenient and pleasurable ordering and checkout experience. At the same time, merchants win more profits by streamlined business operations and more satisfied customers. Telpo, dedicated to creating a colorful future, launches a variety of self-service kiosks, helping you stand out and gain more customers.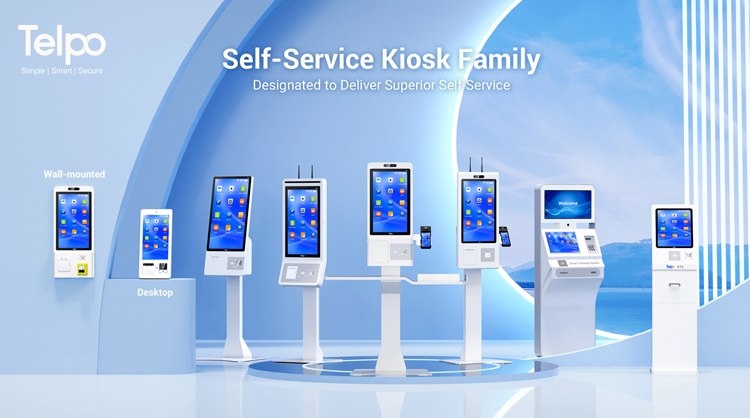 All-in-one Self-service Telpo Kiosk K5
Telpo K5 is an all-in-one self-service kiosk that can be widely applied in many industries, including retail, catering, beauty and cosmetics, health care, etc. Customer experience is transformed by distinguished self-service ordering, self-service printing, and self-service payment experience.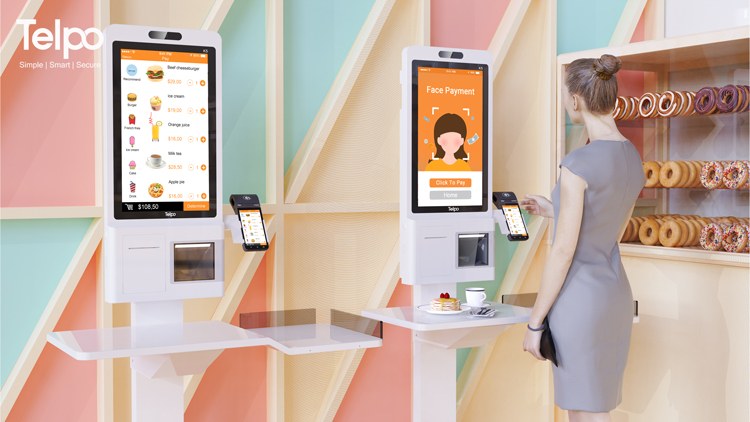 Features:
Clear, sensitive, and durable screen. Equipped with the industrial-grade full HD and ten-point touch capacitive screen, excellent visual and tactile experiences are delivered.
Built-in 80mm thermal printer with auto cutter. The speed of the printer can be up to 170mm/s. Multilingual and clear printing is also supported.
External POS machine. Various payment choices are provided and transactions become digitalized.
Face recognition. Single-lens, dual-lens or 3D structured light camera is optional. Accurate facial identification and easy membership management are ensured by wide enough range of views.


Self-checkout Telpo Kiosk K7
Telpo K7 is an intelligent self-checkout kiosk which can be applied in various scenes, whether convenience stores, supermarkets, fast food restaurants, or cosmetic stores. Multiple functions provided by Telpo K7 meet all needs of the business.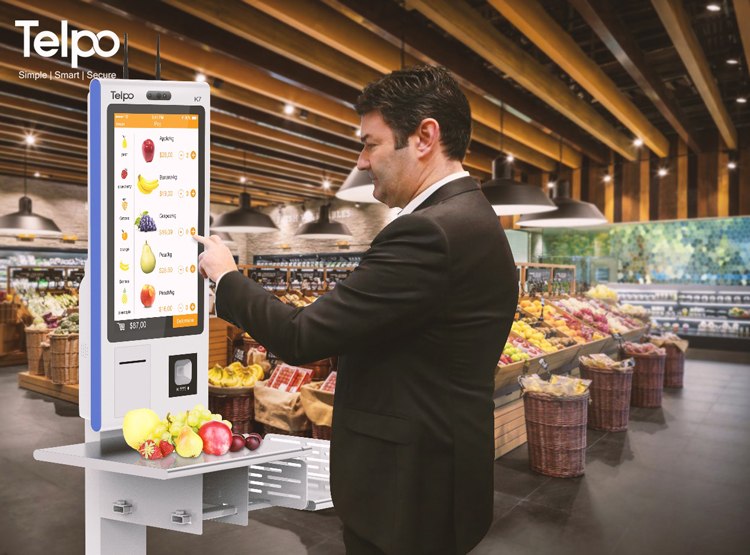 Features:
23.8-inch FHD screen. Equipped with 23.8-inch screen with 1080*1920 FHD resolution, Telpo K7 displays contents and images clearly and vividly.
Rapid QR code scanner. QR code scanner of super performance delivers speedy experience in scanning QR codes and commodity codes.
Long lifetime thermal printer. Clear receipts can be printed clearly, smoothly and quickly. The printing speed can be up to 150mm/s. The cutter can be used for more than 700,00 times.
External EFT POS. The EFT POS with various certifications is easy to install and offers plenty of payment choices.


Mini Kiosk Telpo K10
Telpo K10 is a self-service kiosk of small size, which takes up little space and makes digital self-service applied in even a small shop. Telpo K10 is most suitable for use in small retail stores with lots of goods, for its mini size helps enhance frictionless intuitive engaging of customers.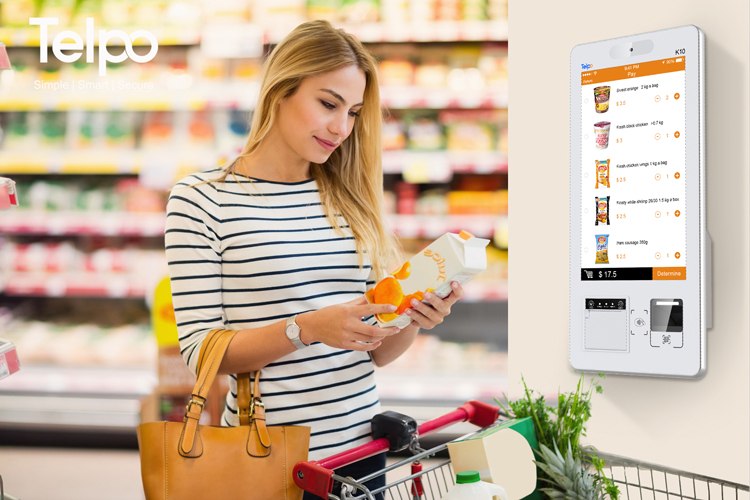 Features:
Lightweight and small size. Telpo K10 weights only 5.5kg and even one person can pick it up easily. It is half less than a traditional self-service kiosk and takes up less space.
Multiple functions. Compact design makes Telpo K10 provide full functions though it's of small size, delivering smooth and efficient self-service ordering, self-service scanning, self-service checkout and self-service printing experience.
3D face recognition camera. Every face can be recognized by precise positioning and features-capturing. Quick and accurate face recognition payment is also supported.
Self-service payment. Built-in fully certified payment module accepts any current mainstream payment methods.


Queue Kiosk Telpo K15
Telpo K15 is a queue kiosk which is committed to improving smart public services in self-queue and ticketing. Telpo K15 can be applied in banks, hospitals, restaurants and business halls, and other public places, empowering speedy reservation and queue management.
Features:
17-inch HD capacitive screen. The appointment number can be clearly displayed. Flexible operation and fast response can be ensured, as well.
Efficient identity collection and verification. A variety of contactless verification methods are available, including NFC cards, QR codes, face recognition, and fingerprint.
One-stop customized service. Telpo provides excellent customized services and after-sales support.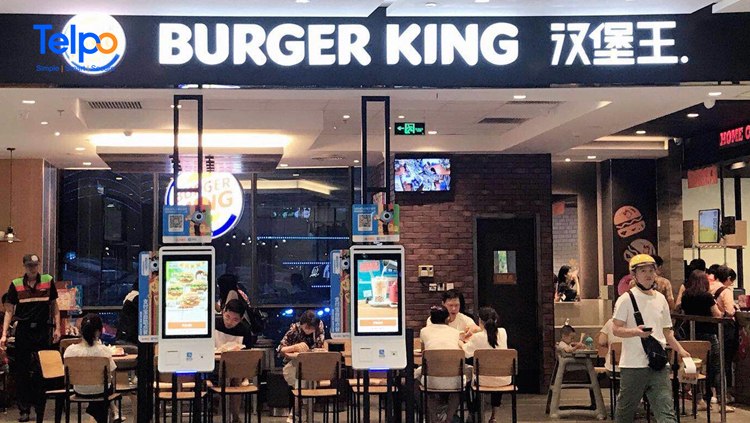 Telpo self-service kiosks help Burger King China win more customers
Telpo cooperated deeply with Alipay and Burger King and jointly launched a new kind of all-in-one self-service kiosks for new catering. By applying Telpo devices, ordering efficiency is raised, waiting time is reduced and ordering accuracy is improved. Therefore, customer satisfaction and the number of returned customers are increased.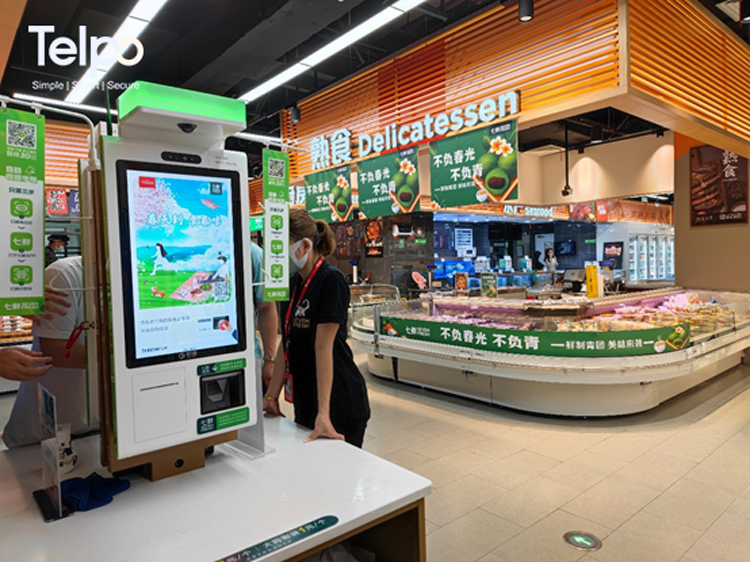 Telpo K7 makes checkout faster and safer in Jingdong 7Fresh Supermarkets
Jingdong 7Fresh Supermarkets introduce Telpo K7 Self-service kiosks to solve the problems of low efficiency, high cost, poor real-time monitoring, poor marketing effect, and so on. After introducing Telpo K7, working efficiency is improved and labor cost is reduced by efficient redeployment of cashiers. In addition, customer experience is enhanced for they can enjoy a faster and safer checkout experience and get more control over their shopping.
Founded in 1999, Telpo has rich experience in providing smart terminals and solutions. Not only Telpo self-service kiosks have distinguished advantages, but Telpo MDM also provides value-added services and offers customers better management of their devices. Last but not least, with more than 20 years of customized experience, all your needs will be satisfied. Telpo is dedicated to being your loyal partners. Welcome to contact us for more details.
Tag: self-service kiosk, self-checkout kiosk, Telpo kiosk family