Public transport is a crucial component of sustainable transportation development. However, many cities throughout the developing country are suffering from traffic congestion, which negatively impacts sustainable transportation development.
Take Indonesia as an example. It is the fourth most populous country in the world, with 261 million inhabitants. The urban mobility and exponential growth of motorization intensify the contradiction on heavy traffic congestion and low traffic speeds in Indonesia, driving the Government of Indonesia (GoI) to advocate and trial new public transportation system at its selected cities.
It was reported that INDOBUS' pilot cities, namely, Pekanbaru, Batam, Bandung, Semarang and Makassar, have developed and implemented a BRT system that conform to international standard.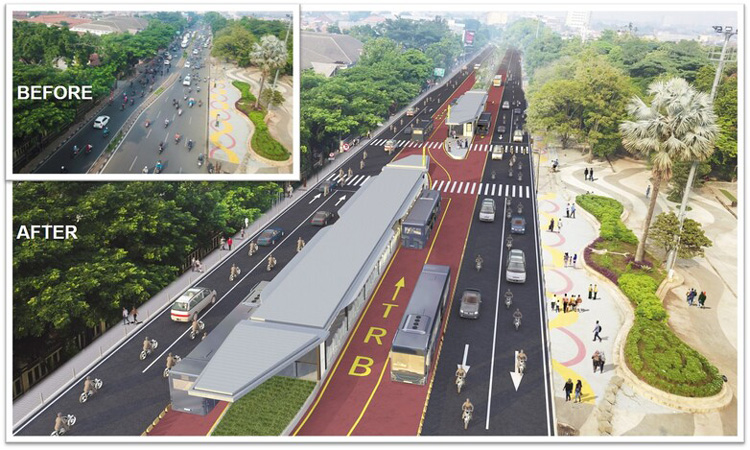 What is BRT or BRTS?
Bus Rapid Transit (BRT) or bus rapid transit system (BRTS) is a bus-based transit system designed to delivers fast, comfortable, flexible and cost-effective bus services. The BRT system generally has specialized design, services and infrastructure (dedicated lane, busway, traffic signal priority, off-board fare collection, elevated platform, enhanced station, etc) to promote sustainable transportation system development, improve bus service quality and mitigate traffic congestion.
Why BRT system needed?
As the efficient BRT system contains express services, high capacity station, exclusive infrastructure, elevated platform, high capacity bus, quick passenger access, integrated fare, operational efficiency, time passenger information system and other elements, it can make city environment livable, transport system affordable and safe mobility.
Moreover, the BRT system can provide more social benefits. When it comes to the economic aspect, it is conducive to reduce travel times, increase economic productivity, employment and work condition, further motivate more reliable product deliveries. Being in the social perspective, more equitable access throughout the city, reduced accidents and injuries and increased civic pride and sense of community can be seem. In addition, it is also good to reduce noise and protect environment with less air pollutant emission, and makes urban form more sustainable.
How to make BTR available?
Automatic fare collection (AFC) or called as BRT ticket validator offers a hand to verify the accessibility and effect of the bus rapid transport system and make the facilitate bus services available as soon as possible.
Designated for promoting fast and convenient bus services, Telpo upgraded automatic fare collection system with external printer TPS530 was born.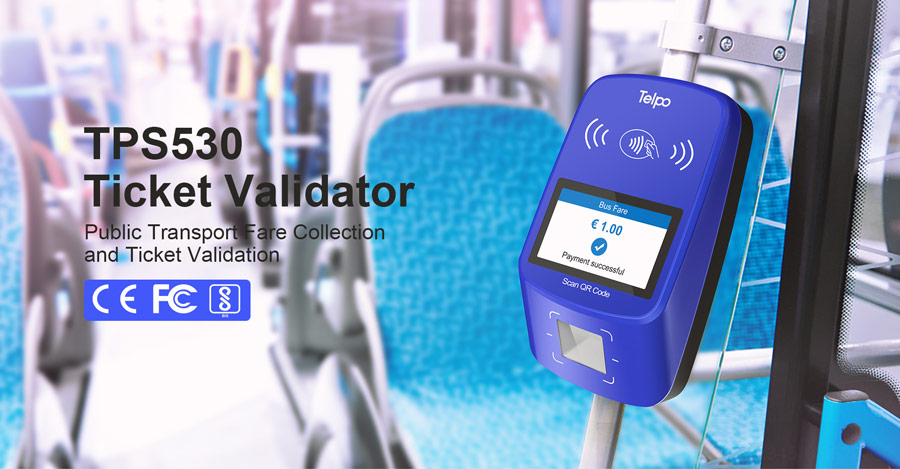 Telpo TPS530 for BRT fare collection
As the ticket validator TPS530 supports NFC card and QR code payment, passengers can choose such contactless payment method without worrying about germs or virus spread caused by cash transaction. Passenger can put the bus card at the contactless reader or display the QR code in front of the scanner, then the ticket validation device will automatic deduct the fare, display the payment status at the screen and then print the receipt as proof.
For public transport authority, the combination of BTR, AFC system and ticket validator is conducive to elevate and improve the sustainable transportation development and even the smart cashless society progress. To passenger, they have the chance to enjoy a contactless and convenient travel experience.
Tag: Indonesia BRT system, bus rapid transit, BRTS, automatic fare collection, AFC, ticket validator, INDOBUS, sustainable transportation
Brief Introduction: Founded in 1999, Telpo is a worldwide first-rate smart terminal and solution provider. It mainly provides EFT-POS, cash registers, biometric devices, facial recognition machines, self-service kiosks, and bus validators. Telpo has served more than 1000 customers abroad, including government, banks, Telecom operators, police stations, Retail shops, and offices. Telpo adheres to R&D and innovation, aiming to provide more intelligent hardware for global partners.
Related Products: TPS320, TPS530