Tips AboutSelf Ordering Kiosk For Restaurants You Should Know
The self ordering kiosk for the restaurant is rapidly gaining momentum in optimizing restaurant order methods, streamlining overhead queuing issues, increasing turnover rate, and even maximizing profits with high footfall. In the fiercely competitive restaurantindustry, business success comes down to one thing, namely, customer experience.Fortunately, the automation technology provides a chance for restaurant owners toupdate the way they operate and function.
Nowadays, it is common to hearthe concept of restaurant digital transformation and future restaurant because improvingrestaurant working efficiency and customer experience have been the consensusfor restaurant continuous growth. Earlier in 2016, McDonald has proposed thisconcept and introduced some self ordering kiosks for the restaurant. Thehidden momentum behinds it is due to the customer demands on self-help andcontactless service in a relatively safer environment.
What is a self ordering kiosk for the restaurant?
A selfordering kiosk is a self-service kiosk equipped with a food orderingsystem and allows customers to place an order, confirm and pay for it directlyat the screen, without the intervention of the cashier or server. It is a smallfree-standing physical object that displays the entire menu, activities, oradvertising for the customer. There are many types of self-service kiosks,stand-alone or wall-mounted ones, which restaurant owners can choose thesuitable one depending on their store size.
How does the food ordering kiosk work?
The easiest way to understand how a food kiosk work is to imagine someone orderingfood by clicking the digital menu on the touch screen. Take Telpo food ordering kiosk as an example.
When customers enter the restaurant, they can browse the digital menu andknow the dishes' information. And then, they can freely choose whatever dishesthey like and customize how dishes they needed in order. The 3D structure facecamera, barcode scanner window, NFC module, and thermal printer allow the customerto pay with a face/QR code/ NFC card and print the receipt once the transactionis complete. Once the order has been placed, it will be sent straight to thekitchen and synced with the restaurant POS system. Customers can go back totheir seats and wait for the meal.
How do self ordering kiosks benefit restaurants?
As we all know,it is easy forcustomers to lose their interest and patience if there is a long queue at therestaurant at peak time. And food ordering kiosks can greatly solve thisproblem. Apart from it, the self ordering kiosk also benefits restaurants inmany other ways.
Reducelabor cost
Installing the food ordering kiosks at therestaurant means that you need not hire more people to take orders at thecounter. Unlike salaries that should be paid every month, self ordering kiosks are only a one-timeinvestment. It can optimize labor by changing the front-of-house structure,reassigning the staff to areas where they can batter benefit the business andimprove customer experience. Flexible productivity is good to lower the laborcost.
Elevateorder speed
With thehelp of a food ordering kiosk, customers can self-order food at theself-service kiosk, and the kitchen can know the order synchronously, withouttaking a long queue at the counter and waiting for the cashier. It willeffectively omit traditional ordering steps from written, input to inform thekitchen. Data show that the self orderingkiosk can shorten the order process to 2 minutes and improve its threetimes operating efficiency than ever.
Enhance order accuracy
It is inevitable to avoid human error whenrecording orders in the traditional way include illegible handwriting ormisplace paper tickets, even though the servers have gained professionaltraining. As the self ordering kiosk allows thecustomer to select and submit their orders, it also provides the chance tomaximize enhanced order accuracy as the customer will confirm the order onceagain before the transaction. Thus, restaurants need not worry about employeesmishearing, forgetting, or entering the wrong items anymore.
Improvecustomer experience
The selfordering kiosk delivers a special and more private customer experienceby allowing customers self-complete their order process from selection toreceipt print without waiting for the assistance of the cashier. Besides, the self-servicekiosks can sometimes be even more interactive than ordering food from the cashier.The self ordering kiosk with a facerecognition function not only makes the customer enjoy rapid face payment,shorten their transaction time, but is also able to recognize their membershipidentity and provide them corresponding membership rights and interests.
Increaseprofit
With the self-service kiosks, customers haveaccess to control the ordering process and take their time viewing the menu. Itwas reported that self ordering kiosks can increase the averageorder size by 15-20% own to the hot-sale, latest activities, and promotionprompts that might be forgotten by the cashier. A self-service kiosk can takeorders faster and upsell on every transaction. In addition, the self ordering kiosk also gives the customer asense of anonymity, offering them the biggest freedom to make oversized orstrange orders without being judged.
Provide data analysis
As sales data will be recorded anduploaded to the ordering system by the selfordering kiosk, thus restaurant owners can utilize those big data tolearn the dish sales ranking, turnover, ordering method, customer preference, andmake member statistics and analysis. An in-depth understanding of customers isgood to adjust restaurant strategies and improving customer experience. Inaddition, the self-service kiosk can do a good job in customer personalizedmanagement and achieve accurate marketing by collecting operation data and userdata.
Keep Staff and Customers Safe
Affectedby the epidemic, everyone is yearning for a safe and healthy environment. Andthat's also the benefit that the self ordering kiosk can take effect and keepcustomers and staff safe by reducing in-person interactions. Based on theCenters for Disease Control and Prevention (CDC), the virus will spread amongpeople who are in close contact (within about 6 feet of one another).
Giventhat, the self ordering kiosk provides a natural solution tothis dilemma by giving guests the power to order and pay for their meal all bythemselves rather than gathertogether and contact the cashier to order the meal at the counter. Whetherthe self-service kiosk is placed at the front of your restaurant or directly hungat the wall, it allows customers to place their orders and send those ordersdirectly to the kitchen without an in-person interaction with staff.
Howto choose the right self ordering kiosk for your restaurant?
Nowadays, there are many typesof self orderingkiosks, but not all of them fit your restaurant operation. Giventhis, choosing the right self-service kiosk is extremely significant. In thefollowing article, we will provide some directions and you could base on your restaurant'sactual demand to choose the right one.
Design
Whenit comes to the first impression, the visual effect is undoubtedly taking asignificant role. That is the same for the customer. If they are the first timeto your restaurant, they certainly will view the restaurant environment and atthis time, the self ordering kiosk that is inline with your restaurant style will be a bright point. Thus, if you want tochoose a self ordering kiosk, you should atleast consider what restaurant atmosphere you hope to present to your customer.
It is worth mentioning that appearance,screen size, kiosk size, function module layout, installation methods shouldall be taken into consideration as they will directly relate to userexperience. In terms of ergonomics and visual aesthetics, if your restauranthas big enough space, the large-screen self-service kiosk with exquisiteappearance and adjustable bracket may be the better choice. The big-screenself-service kiosk delivers clearer content, facilitates people of differentheights flexible use, thus it benefits to improve store image and enhance thegoodwill of customers.
Operation
Itis human nature to reject hard-to-use devices and more prefer easy-to-use ones.Just imagine, if you fail to find member login interface, payment choice, or the returnkey after trying so many times, will you give up and go to another restaurantthat provides easier operation? That givesus the idea that a simpler and clearer operation will help you easily gaincustomers' favor and even increase the turnover rate. To avoid difficultoperation problems, you should choose the self-service kiosk with high-qualityconfiguration, big screen, and multi-function which allows a simpler andinteresting check-out process.
Payment
No matter what restaurant youown, payment is always the most significant part. As different people havevarious payment habits, you have no idea what payment method the customer facein front of you will be more favorable. So, why not give them as much aspayment methods you can provide and let them choose the preferred one? We allknow, the purpose of self ordering kiosks is to enhance customershopping interaction, and multiple payment choices will certainly cater to thisidea. Under this condition, you can choose a self-service kiosk with multiplepayment options.
Member Marketing
An in-depth understanding of your customerdemand is the way to help you make accurate marketing and increase restaurant revenue. That'salso the reason why more and more businesses roll out loyalty programs becausethey treat it as the direct bridge to dynamiclearning customers' consumption preferences. Burger King is an example. Itrecently promoted the Royal Perks program that will provide customers 10 crownsfor every dollar spent offer rewards, daily perks, member-only exclusives likespecial offers and promotions, and other personalized experiences are driven bycustomer data.
In addition, the mature offace recognition technology also makes membership face identification available.In this way, you could choose the self-service kiosk with a face recognitionfunction to allow membership registration and membership recognition by simplyscanning the face, to improve identity efficiency, provide customized dishesand stimulate consumption.
Telpo self-service kiosk family
Consideringdifferent restaurant demands and helping partners put them into use as soon aspossible, Telpo rolled out a self-service kiosk family with powerful functions includeself-service ordering, multiple payments, advertising display, membermanagement, and so on.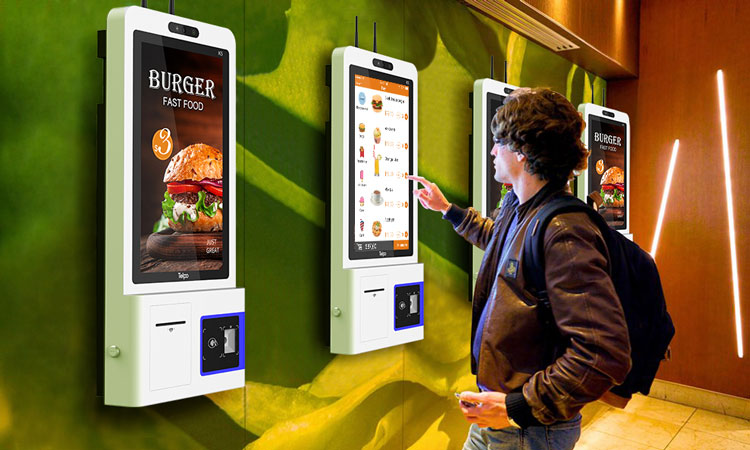 Telpo K5
TelpoK5 with a 21.5-inch display and multi-point screen enable display content, andthe multi-acceptance payment methods are good to satisfy customers' variouspayment habits. It can assist restaurants to attract customers, improvecheckout efficiency, save labor costs and make dining more fun.
Feature
l 21.5-inch FHD industrial screen+10 pointsensitive touch-screen+1920*1080 resolution, ensuring stable performance,flexible screen operation, and vivid advertisement display.
l Support 80mm thermal printer with auto cutter,170mm/s high-speed, and a big paper roll. One kiosk can complete ordering,payment, and printing receipt steps
l Multiple payment methods, including facepayment, QR pay, and NFC/IC card.
l Supports floor-stand,wall-mounted bracket, thebracket in line with VESA standard, move easily and flexibly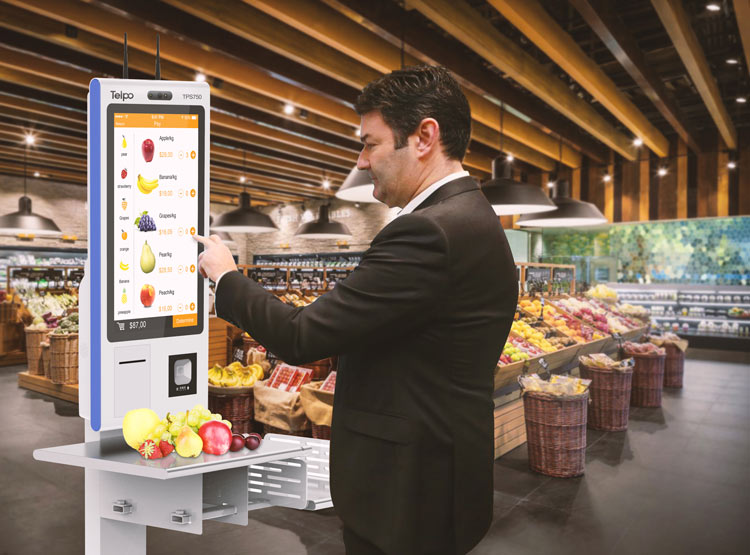 Telpo K7
TelpoK7 is a 23.5-inch large screen self-service kiosk that comes with an ergonomicdesign, allowing an easier complete ordering process from meal selection toprint receipt in a self-service way, eliminating queuing process and freeing upthe one-to-one binding relationship between the cashiers and customer.
Feature
l 23.8'-inch touch screen, fashionable and simpledesign with comprehensive performance
l 80mm thermal printer with auto cutter,supporting 150mm speedy printing
l Support external EFT-POS, QR code payment, facepayment, NFC, and IC card payment available
l Multiple installation methods include wall-mounted,floor bracket, checkout counter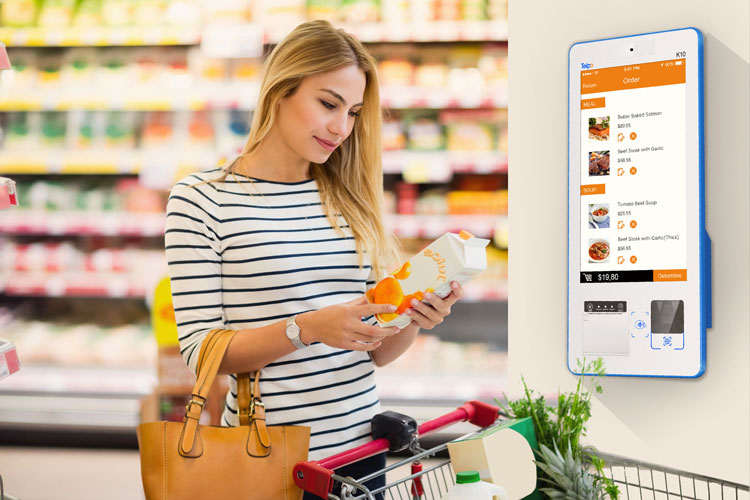 Desktop self-service kiosk Telpo K10
Telpo K10 is a 10.6-inch desktop self-service kiosk with 5.5 kg with multi-functions.The compact design and flexible installation (check-out desk, desk-stand, wall-mountingbracket optional) make it more suitable for the restaurant with a small spacesize.
Feature
l Ultra-thin fashion design with15.6-inch touch screen
l 58mm thermalprinter with auto cutter
l In-built laserbarcode scanner accurate identify commodity barcode and payment code
l Support multi-payment include QR pay, facepay, NFC payment
l Check-out desk,desk-stand, wall-mounting bracket is available
How to cleanand maintain a self ordering kiosk?
If you want to expand theservice life of the self ordering kiosk aslong as possible, you should master some skills to do well in clean andmaintain jobs. Here are a few practical tips to ensure a self-servicekiosk is normally up and running.
Place the self ordering kiosk in the right environment. As different kinds of food-orderingkiosks are made of various materials and have quite different demands on the environment,thus you should not place them in the wrong area. Namely, the indoor-ratedkiosk cannot place outside or in an area with much dust or particles in the air.Otherwise, it will result to cause malfunction of the kiosk. You can clean itby removing the outer shell and wiping it with a damp cloth.
Keep clean. A touchable screen isalways considered the most prominent part when it comes to cleanliness. Taking materialinto consideration, you must follow the manufacturer's specifications to clean themachine. Besides, please don't forget occasional cleaning the relativeequipment such as checkout counter, POS machine, printer, etc.
Lubricate regularly. The motorgear inside the self ordering kiosk willconsume the lubrication after constantly working, which will reduce motor speedduring rotation and even make some noise. Lubricating oil can solve this problem.
Treat softly. Hard objects to knock orvibrate the self ordering kiosk should bebanned. Because rough handling will certainly damage the internal circuitboards and delicate structures.
The smart restaurant must bethe future development trend of the catering industry. And the self ordering kiosk for the restaurant isconducive to improving ordering efficiency, optimizing the dining process, and enhancingcustomers' loyalty.
Tag: selfordering kiosk for restaurants, food ordering kiosk, self-service kiosk