When you are struggling with whether introduce mobile POS terminals, SoftPOS has been coming! What is SoftPOS? How much do you know about it? Do we have the necessity to replace electronic POS terminals with SoftPOS? Read on and this article will tell you more.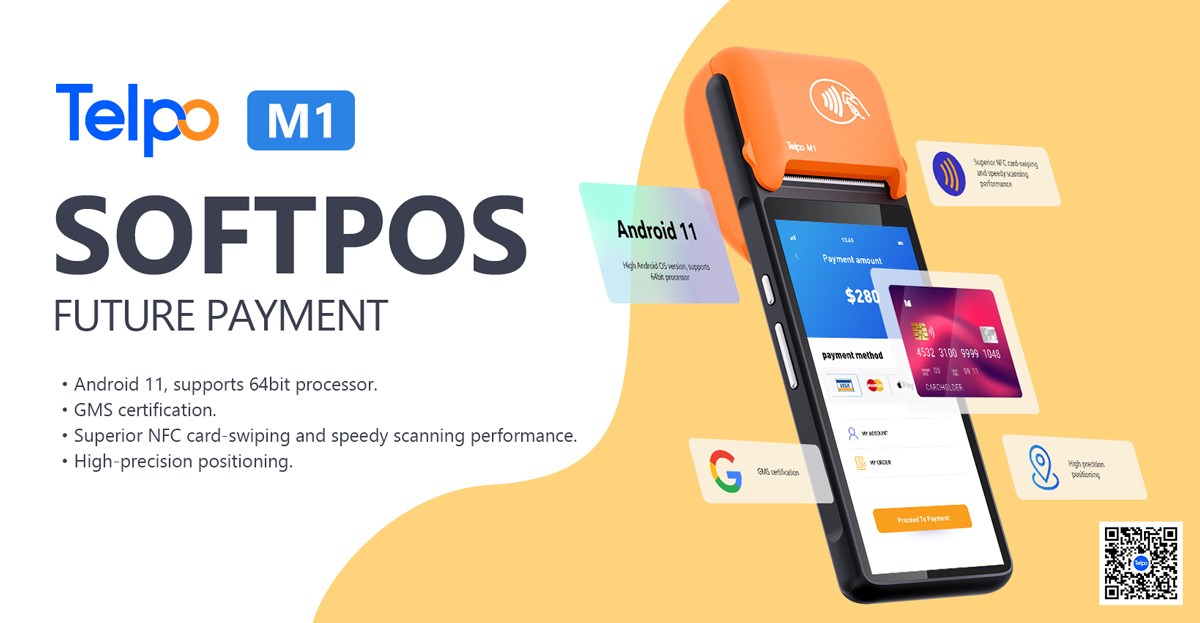 What is SoftPOS?
SoftPOS, whose full name is Software Point of Sale or Software POS, is a fast, convenient and secure card payment acceptance technology. It allows to acceptance of any contactless card payment or mobile wallet payment right from NFC-enabled devices. In other words, with a smartphone supporting near-field communications, businesses can accept EMV contactless card payments. That is why SoftPOS is also called the tap-to-phone system or tap-on-phone solution.
What are the advantages of SoftPOS?
Lower-costs.
The most obvious advantage of SoftPOS is that it costs less. There is no need for businesses to purchase a card reader specifically used for card payment acceptance. Businesses only need to download a fintech app on their NFC-compatible smartphones and they can accept credit card transactions. Less money will be spent on purchasing, leasing, and maintaining card-reading devices.
Especially for the start-up business, purchasing a POS machine, whether an electronic POS terminal or mobile POS machine, can be an expensive expense. Instead, there is no extra cost to introduce SoftPOS, which saves a lot for businesses in the initial stage.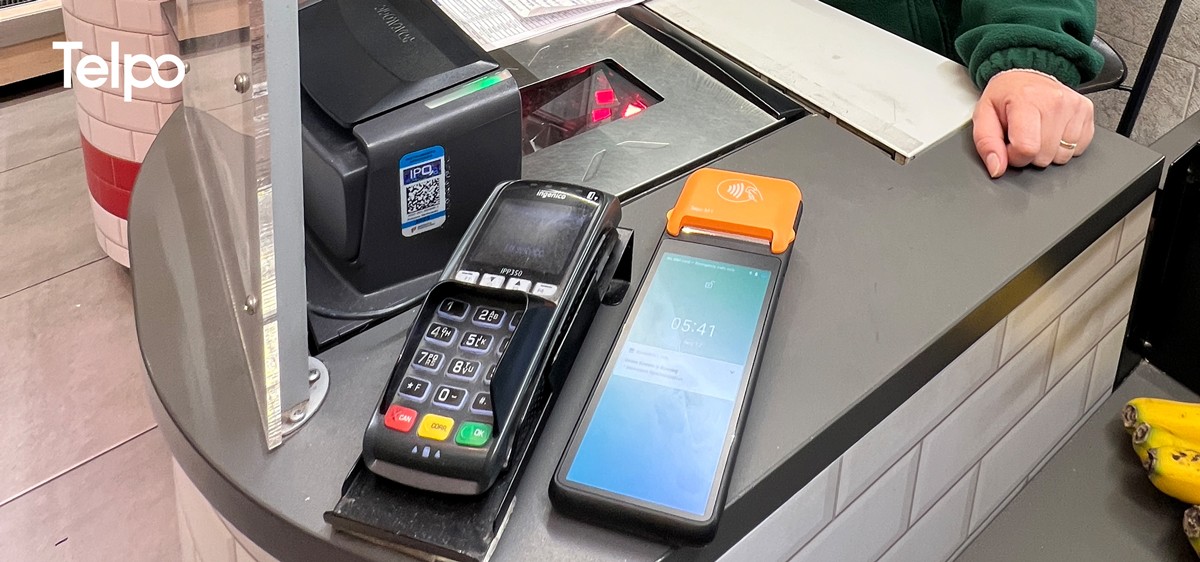 Compared with traditional POS machines, Softpos makes the checkout counter tidy
Easy operations.
SoftPOS is easy to use. People who know how to use a smartphone can master SoftPOS easily. Unlike mobile POS, merchants need to wait for at least 4 days after placing the order, for mobile POS requires testing, injecting the key, and downloading OS before delivery. Instead, for SoftPOS, what merchants have to do is spend a matter of minutes purchasing an NFC-compatible device or directly using the one they already have, downloading an app, conducting a KYC procedure, provisioning the app, and enrolling with their merchant ID to connect to their bank account. Operating SoftPOS doesn't even require professional training like the traditional e-POS.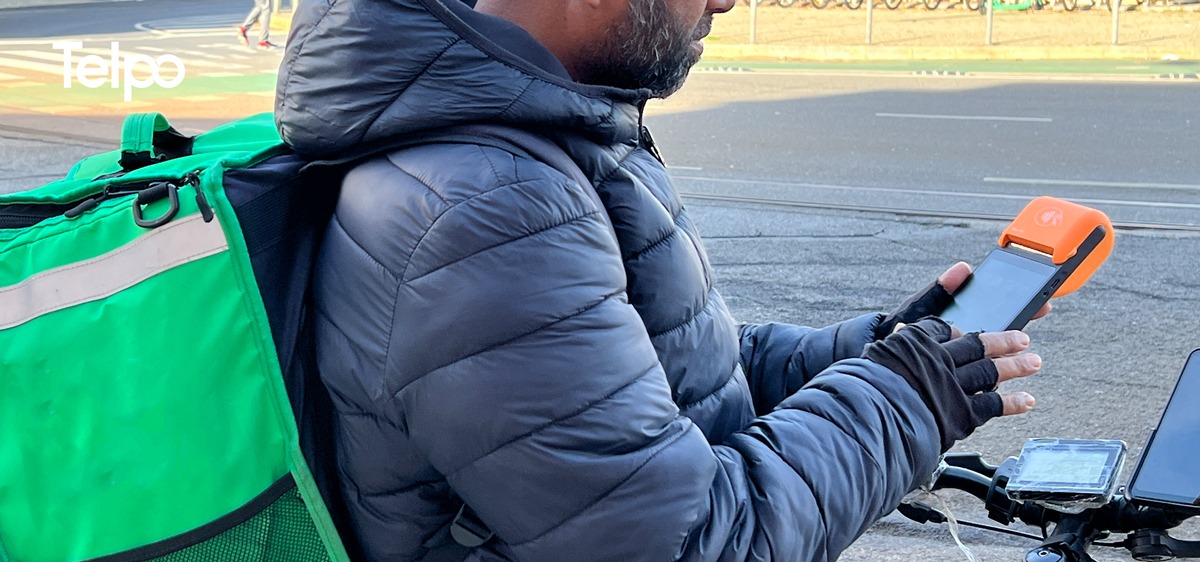 Soft POS facilitates payment and ordering in food delivery
Portable to carry.
Is it more portable to bring one thing out or two things? The answer is obvious. Smartphones have become an indispensable part of our daily life, and most people take their phones wherever they go. People may forget their mobile POS terminals but seldom forget their smartphones. Thanks to SoftPOS, merchants can turn their mobile phones into a POS terminal and don't have to bring additional hardware out. Tap-on-phone solutions are most suitable for mobile businesses, like food trucks, on-site maintenance services, flea markets, etc.
Accept payments anywhere anytime.
As mentioned above, SoftPOS is more portable for you to bring out. Tap-to-phone system allows merchants to accept payments anytime as well. As technology develops, mobile payments become more popular. In addition to credit cards, mobile wallets are starting to be used by more people, like Google Pay, Apple Pay, Samsung Pay, etc. As non-contact payments win more recognition, now is the best time to deploy tap-on-phone solutions to accept these payments. With SoftPOS, customers just need to tap their NFC cards on the merchant's phone and thus merchants can accept payments anytime anywhere with their NFC-compatible smartphones.
Softpos facilitates mobile payments such as taxis, outdoor markets, etc.
More secure.
Losing devices is usual in our daily life. However, for merchants, losing their payment acceptance devices may bring a catastrophic loss. What's worse, there is no way to inactivate the lost mobile POS terminals and any fraudulent merchants can conduct transactions with the device, which are still considered legitimate transactions. On the contrary, there is a solution when losing the smartphone. Merchants only need to inform their payment provider of customer service and the customer service operator will enter this information into the Attestation and Monitoring service to block the SoftPOS app on the mobile phone.
What are the limits of SoftPOS?
High requirements for mobile phones.
SoftPOS has high requirements for mobile phone configuration, for it must be NFC compatible. Not all smartphones support near-field communication functions, especially entry-level mobile phones. If a merchant would like to apply the tap-to-phone system, they have to purchase an NFC-compatible smartphone first. In contrast, NFC is a basic function of most mobile POS terminals. Therefore, fewer limits need to be considered when selecting a mobile POS terminal.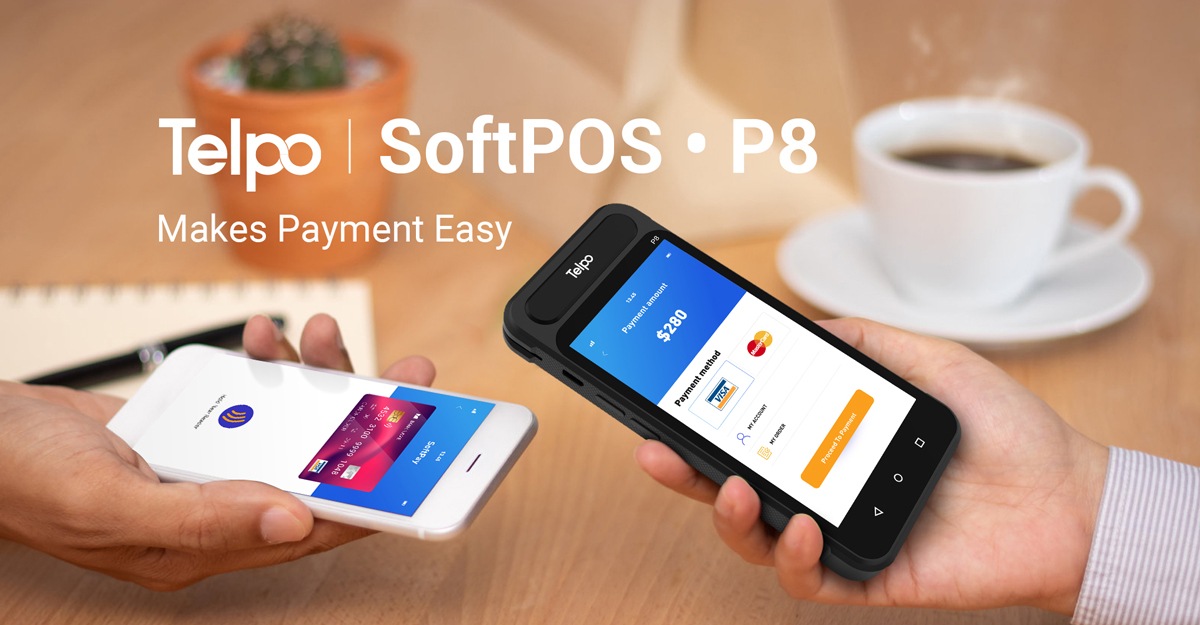 Smartphone Softpos cannot print invoice or receipt directly.
Limited choices for customers.
Paying by tap-to-phone is obviously convenient, but maybe just for NFC cards. Tap-on-phone solutions can't satisfy the payment needs of customers who want to use chip cards. Therefore, the tap-to-phone system may just be a temporary instrument for collecting payments, rather than a long-time solution. Besides, customers need to tap their credit cards on the merchants' phones, which can't be accepted by some customers and may get them upset. Anyway, a traditional card reader is needed eventually.
SoftPOS turns smartphones into payment acceptance devices, which are more flexible and convenient. The tap-to-phone system can be used as a diverting way in peak hours, improving efficiency and bringing a better customer experience. However, as the smartphone is not a specialized tool, the tap-on-phone solution has its own limitations. A traditional card reader is necessary eventually to satisfy multiple payment needs. Compared to SoftPOS, mobile POS is with maturer technology and can offer more payment options. For merchants who have sufficient funds and long payment acceptance needs, introducing a mobile POS terminal rather than a SoftPOS is more convenient.
Founded in 1999, Telpo is a world-leading smart terminal and solution provider. Telpo products cover the smart payment, smart retail, smart security, smart transportation, and V-IoT. Up to now, Telpo has served more than 120+ countries and set up offices in India and Russia, as well as branches in Hong Kong, Nigeria, America, and Sri Lanka. Telpo products are reliable and deliver the best user experience to customers.
TPS900 is a smart EFT POS that accepts multiple payments and enables biometric identification.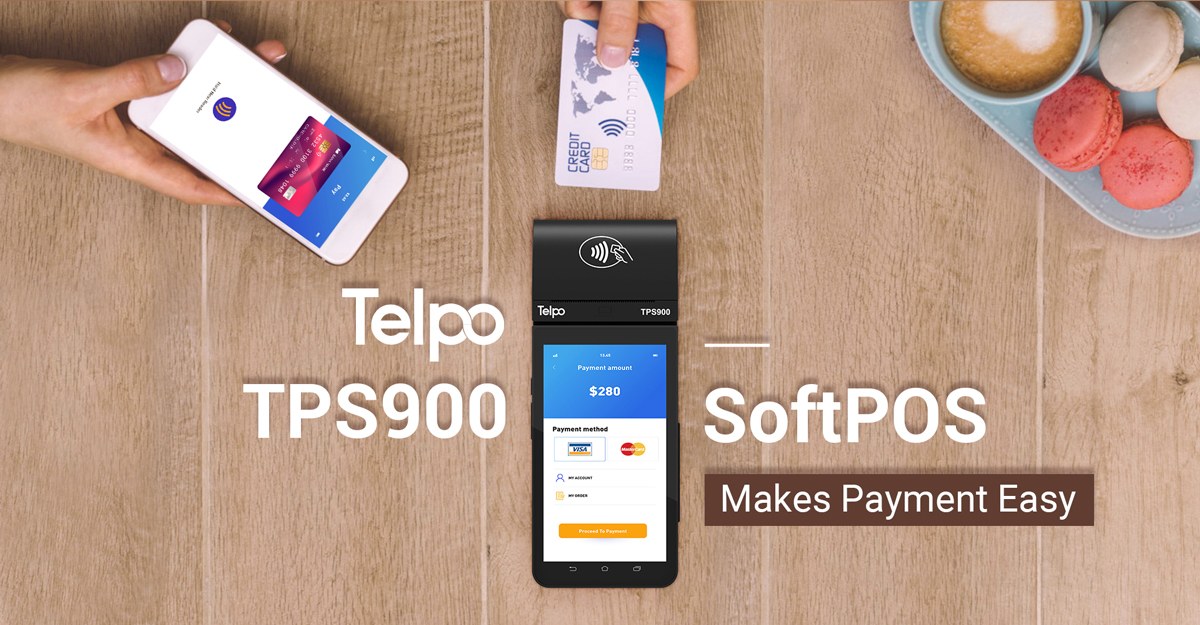 Features:
Powerful OS. Android 10 version+ Qualcomm chip+Telpo OS
Multi-payment. MSR, credit card chip card, contactless/NFC, LFD fingerprint payment, QR Code payment, face payment, etc.
High-security certification standards. PCI 6.X, EMV, Paywave, Paypass, MIR, Rupay, PURE, TQM, CE, FCC, RoHS, BIS, Anatel, etc.
Strong expansibility. External add OTG, UHF, TPUI, tax control, large battery, and physical keypad.
Telpo M1 is a 6-inch mobile POS with a good appearance, most suitable to be used for fast ordering and payment acceptance in restaurants.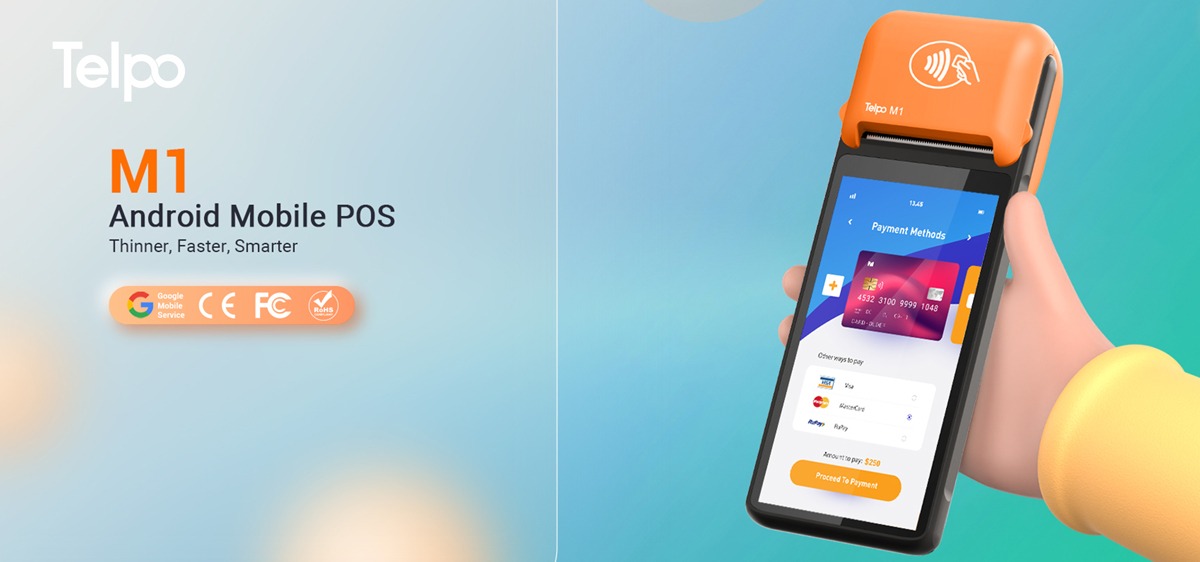 Features:
Excellent performance. Android 11 OS + Qualcomm 2.0Ghz Quad-core processor.
Quick charge. 18W fast charging, intelligent battery protection, 65% charged in 0.5 hours.
Multi-payment. NFC card reader, QR code scanner, certified by Google Mobile Services.
Telpo is a reliable hardware provider with more than 20 years of experience. To create a colorful future, Telpo has been on the road. Telpo is dedicated to being your cooperative partner to boost your business. Welcome to contact us for more details.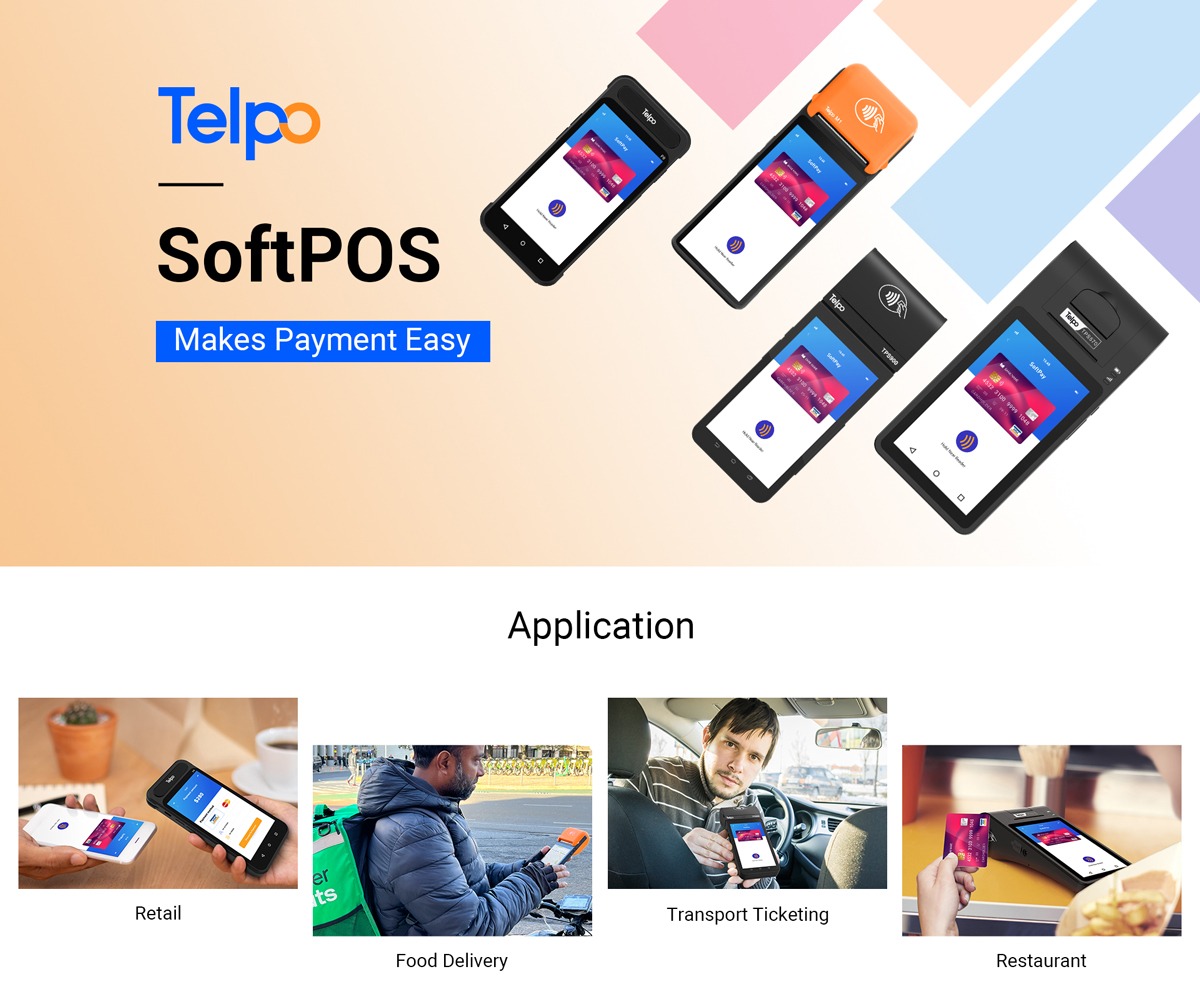 Tag: SoftPOS, software point-of-sale, tap-to-phone system, payment acceptance device, tap-on-phone solution,what is softpos, softpos payment,Android