Point-of-sale has been in its iteration for a long time and now SoftPOS is the latest generation. However, can SoftPOS completely replace mobile POS? The answer is still uncertain, at least not yet.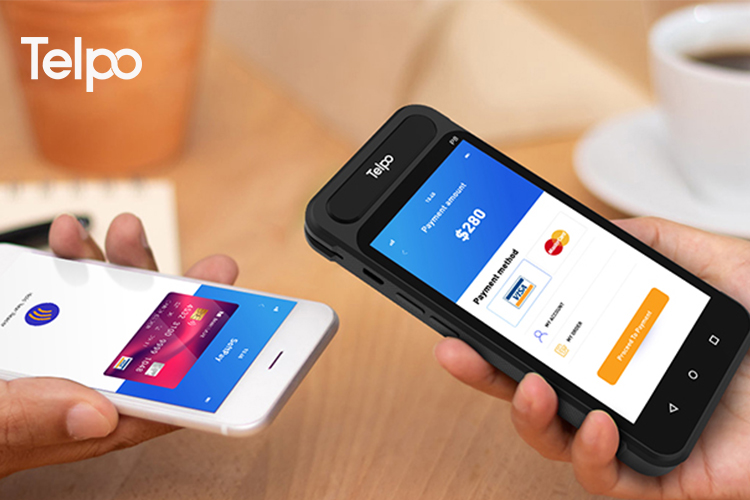 The global POS market is expected to grow in the coming years, and now multiple forms of POS have emerged, including traditional desktop POS, easy-to-carry mobile POS and the latest SoftPOS.
Evolution of point of sale
POS, whose full name is the point of sale, usually refers to the POS solution and contains both hardware and software. For traditional POS to have a bulky shape and bring more inconvenience, mobile POS was launched. Compared with traditional POS, mobile POS has a slimmer appearance and is easier to use, which makes it a preferred option of entrepreneurs and has gradually replaced traditional POS. In recent years, SoftPOS has appeared to accept payments anytime and anywhere without the requirements of additional hardware. This time, will SoftPOS take over mobile POS similarly?
What is SoftPOS?
SoftPOS is short for Software Point of Sale/Software POS, which is a new payment technology. It is usually an application and can turn any Android device into a standard POS terminal. SoftPOS payment technology allows merchants to process contactless payments from cards and digital wallets on a Commercial Off-The-Shelf Android device, which is a more flexible and convenient payment solution.
The process of accepting payments through Software Point of Sale is very simple. It can be concluded into 3steps.
Step1: Download a SoftPOS app on the smartphone.
Step2: Register your business.

Step3: Begin accepting payments.
Emergence of SoftPOS
As smartphones obtain more and more functions and people become more inseparable from mobile phones, the emergence of Software POS is not a surprising thing. Its popularity can be attributed to the following reasons.
The popularity of non-contact payment. As NFC technology is maturer, non-contact payment has won the favor of more people. Contactless payments bring consumers more convenience for they don't have to take their cash everywhere and count down how much they should pay. They just bring their smartphones, which they bring at all times, tap the phone to the payment acceptance terminal, and the payment process is finished.
More flexible. Compared with traditional POS terminals, Software POS is more flexible for small retailers and service providers. With Software POS, these retailers can use their phones as a POS. For the stores where there is not enough space to place a desktop POS terminal and service traders who provide service door-to-door and can't bring a heavy payment-acceptance terminal, SoftPOS is their best choice for the reason that they only need to bring their phones to accept payments.
Lower cost. As non-cash payments become more common, small retailers have to keep up to date. However, it's not an easy decision to purchase a POS terminal. Software POS helps them a lot. Small retailers don't have to introduce an expensive point of sales hardware. Instead, they can accept payments just after they download the app and finish registration.
Complexity of passing certifications. Traditional POS terminals have to pass plentiful enough certifications to prove their reliability. Especially for accepting payments from bank cards, only a POS of high-security level can protect data transmission and keep the cardholders' privacy disclosed. However, being fully certified is a long and complicated process with high costs. The emergence of SoftPOS can help solve this problem. Merchants just need to download an app, rather than purchase an expensive EFT-POS and carefully check its security level.
Comparison of desktop POS, mobile POS and Softpos device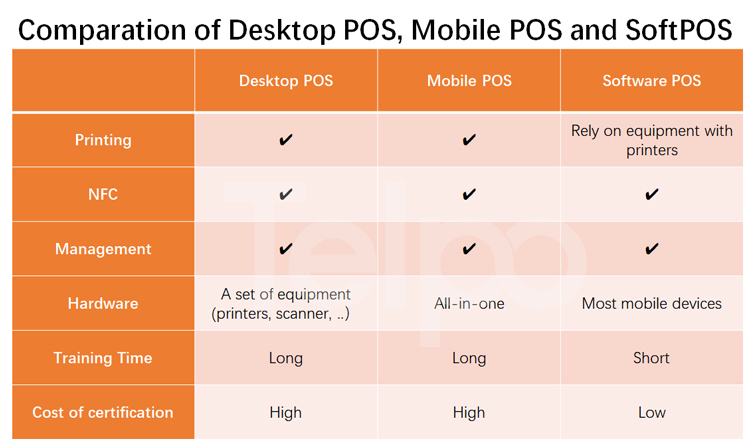 However, there are still some hindrances that prevent SoftPOS from totally replacing mobile POS.
Printing function.
Though many young consumers indicate that they are happy to receive receipts by text or email, physical receipts are still irreplaceable for some elder customers. For them, the physical receipt is still important evidence of archiving, accounting, returns and refunds for a long time. That's why the phone as a POS has its limitations. If the smartphone used as a POS needs a printing function, external printers have to be added, which may make the SoftPOS device takes up more space. In this situation, a mobile POS with a printer built-in is more compact and easier to take outside.
Certification compliance.
To ensure transaction security, passing certifications is necessary. At present, it may meet some difficulties for SoftPOS to obtain payment certifications. Taking EMV Contactless L1 as an example, evaluating whether mobile POS terminals are in line with the requirements or not is different from that of COTS devices. The certification process of payment terminals can't be applied to COTS devices where SoftPOS installs. This brings some obstacles for merchants to select the Software POS to accept payments, for it seems unreliable without the payment security certifications.
Back to the original question of this article, can my answer is that it's too early for SoftPOS to totally take over mobile POS.
In a long time, desktop POS and mobile POS will continue to be the dominant choices of merchants. There is still a long list of specific requirements that Software POS can not meet today. It has a long way to go for Software POS to totally replace mobile POS or desktop POS.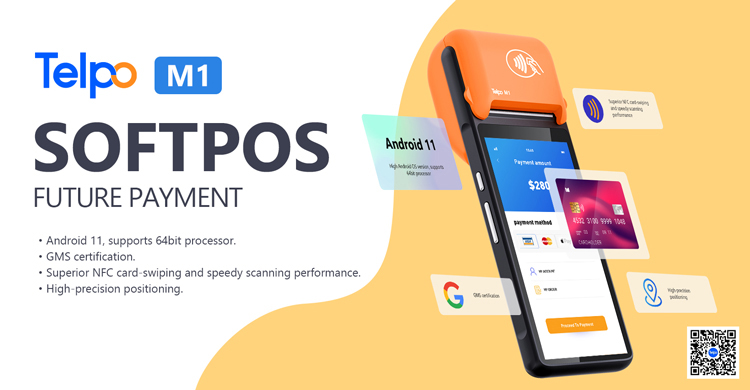 As POS technology based on software is not mature enough and the printing function is still essential, it is a better choice for merchants and entrepreneurs to purchase a slim mobile POS terminal with a built-in printer rather than directly use the phone as a POS. When it comes to mobile POS, I have to mention Softpos M1 launched by Telpo.
Telpo M1 is a mobile POS of Android 11 OS, with a slim and stylish appearance as well as a long battery life. It can download the SoftPOS application through SDK, which saves the costs for users to obtain payment security certifications. Telpo M1 has lots of compelling advantages and must be the best choice for merchants to bring their business everywhere nowadays.
Android 11 OS, supports a 64-bit CPU. The high-version Android OS brings a smooth operating experience and more ease for users to develop.
GMS certifications. Telpo M1 has obtained GMS certifications and delivers users with a seamless experience.
Superior NFC and speedy scanning experience. Telpo M1 is equipped with an NFC reader and QR code scanner, providing a swift payment experience.
Dual-GPS. Telpo M1 enables high-precision positioning and helps merchants to serve accurate orders.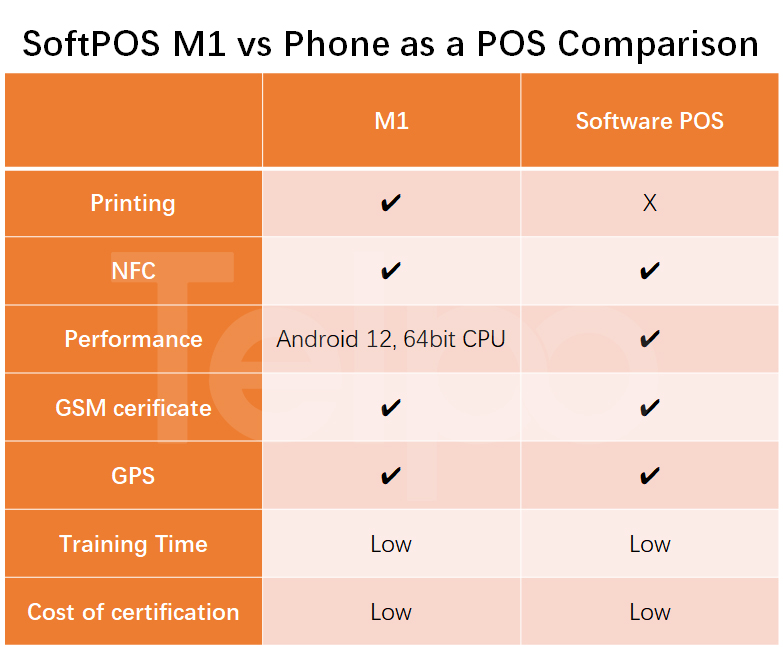 Founded in 1999, Telpo is a world-leading terminal and solution provider, which owns 4 branches, 2 offices, and 28 overseas centers. With the mission of creating a colorful future, Telpo has developed a series of smart payment terminals and solutions in regard to biometric payment, contactless payment, mobile payment, diversified payment, etc.
Telpo's payment products cover EFT-POS, mobile POS, mini POS, face recognition devices, barcode scanners, and so on. With an excellent team of 200+ engineers, Telpo has obtained 300+ technology patents and honors, and nearly 400 product certificates.
A CNAS national-level laboratory, four production bases, an SMT production line, and a 3D printing workshop ensure fast delivery time and monthly 300,000 productions. Telpo has built strategic cooperation relationships with many world-renowned brands like Alipay, WeChat, Baidu, etc. Telpo has the confidence to be your cooperative partner to boost your business. Welcome to contact us for more details.
Tag: SoftPOS, Software POS, Phone as a POS, Smart POS, Provider, Mobile POS, Android SoftPOS, softpos payment technology