With the development of 5G, cloud computing and artificial intelligence, the Internet of Things (IoT) is accelerating arrival. It is expected that by 2025, the number of global IoT-connected terminals will reach 25.1 billion.
With the mission of creating a colorful future and making people enjoy a more convenient life through the high-tech device, Telpo developed a series of VIoT terminals with its 22-year of R&D experience and technological innovative strengthen.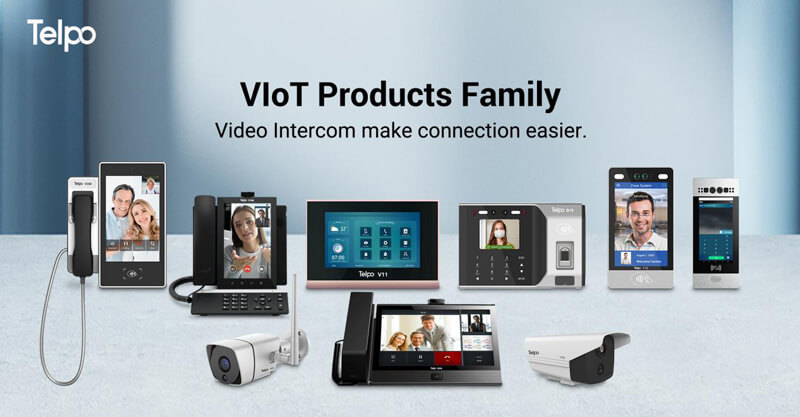 Telpo VIoT
Telpo VIoT (Video Internet of Things), refers to Telpo combine video technology and Internet of Things technology to develop a series of communication devices. Combining visual sensors, radio frequency identification (RFID), infrared sensors, global positioning system, laser scanner, biometrics, artificial intelligence, etc with the Internet, Telpo VIoT devices can make information exchange and realize intelligent identification and management.
Telpo VIoT is conducive to helping all walks of life quickly put video Internet of things applications into use, fully integrated video communication, enhance communication connection between humans and things, innovate communication and identity identification models, improve operation efficiency, and further empower society, industry, and enterprises.
Telpo VIoT Devices
Telpo VIoT devices cover access control and attendance equipment, face recognition equipment, audio and video intercom equipment, and IP cameras, etc., providing a variety of optional configurations, such as face recognition, video intercom, QR code, NFC card readers, etc. To meet the actual needs of users. The following is a brief introduction to the hot products.
10-inch Face Recognition Machine F10
Telpo F10 is a 10-inch large screen face recognition machine with exquisite appearance, featuring face recognition, HID/NFC reading, QR code scanning, attendance, access control, and three-proof feature. With IP66, CE, TELEC certification, it is suitable for airports, banks, office buildings, hotels, retail stores, campuses, communities, and other scenes.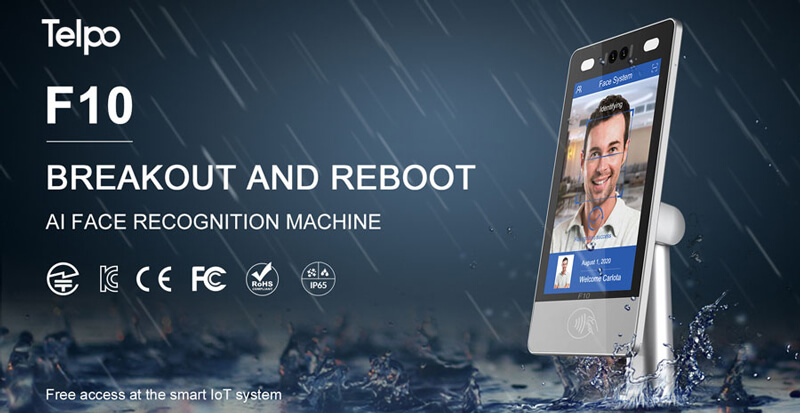 Feature:
 10-inch big display + Android 9 system+ Qualcomm CPU
 Wide dynamic single-lens /dual-lens (RGB and IR) camera + liveness detection
 QR code scanning+ NFC/HID card reading+ face recognition
 Multiple installations (desktop, wall-mounted, pillar, gate) +angle adjustable, fix for different heights of people
 Temperature checking/ mask detection/ vaccination verification optional
 Support IP66, CE, TELEC, GDPR
Time Attendance Machine B10
Telpo B10 is a smart time attendance & access control device that is designed to focus on humanized convenient operation provides employees/visitors a new access control experience with multi-functional identification methods.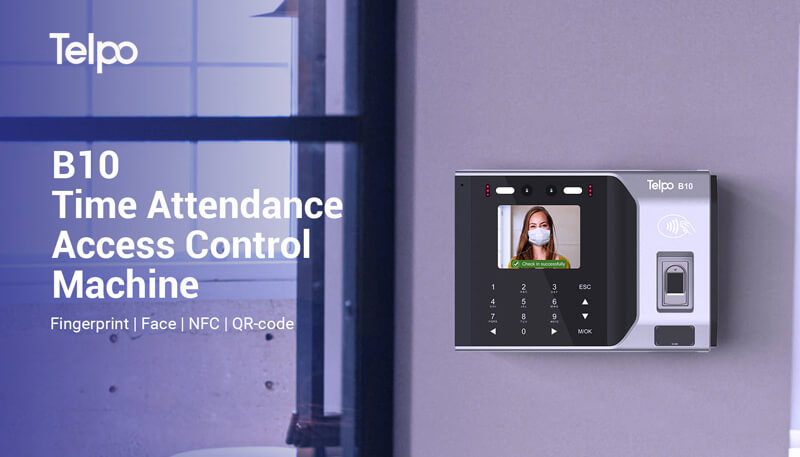 Feature:
 Cortex-A7, 1.5GHz, 1.5 tops NPU, RV1109 chip + Linux OS enable stronger computing power
 2.5-inch LED screen+ keypad and tamper-proof design
 Multi-functional identification include password entering, fingerprint verification, face recognition, QR-code scanning, NFC/HID card reading, and voice intercom
 A dual-lens camera, IR light supplement + liveness detection ensure accurate face recognition
 Capacitive or optical fingerprint scanner option, along with 1s fast reading and 1: N identity verification (N=1000).
 Support all-in-one solutions include access control, attendance, visitor management, etc
IP65 Video Phone V300
Telpo V300 is a video phone combined with audio and video call technology. Equipped with an Android 9.0 system, 10-inch 1280*800 multi-touch IPS capacitive screen, and 2MP HD camera, it delivers high-definition video calls. It is suitable for face-to-face audio and video communication between students and parents, employees, and family members.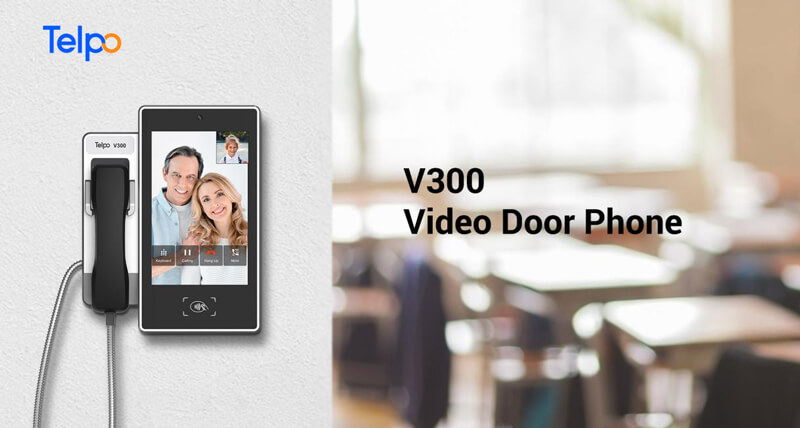 Feature:
 Android 9.0 system+ Qualcomm Octa-core+ 200W HD camera
 10-inch display +1280*800 IPS screen deliver clear content
 Support Opus encoding and 1080P HD dual-stream enhance the video experience
 Multiple communication include Ethernet, 4G, etc
Fixed Focus Bullet Camera V60
Telpo V60 is a fixed focus bullet camera empowered by AI vision processor RV1109, 1.2 Tops NPU and Linux system. The camera can simultaneously detect up to 22 faces all day in virtue of advanced face algorithm, WDR 120dB and ICR infrared filter automatic day night conversion. With POE supply, optional lens versions, IP66 grade, it can provide convenient and safe image collection and monitoring experience and flexible use at indoor and outdoor scenes.
Feature:
 Linux system+ RV1109 processor +1.2 Tops NPU
 1080p full HD Image, clearly display every details
 Support automatic day night conversion and 24-hour monitoring
 Support PoE power supply, ensure constantly working
 IP66 waterproof, suitable for indoor and outdoor environment
Tag: VIoT, video phone, door phone, face recognition machine