Security has been an essential global issue for decades. From May 16th to May 18th, Telpo will attend the security industry trade fair held in London, IFSEC! Can't wait to meet you at Telpo Booth which is set at IF4247, ExCeL London, UK.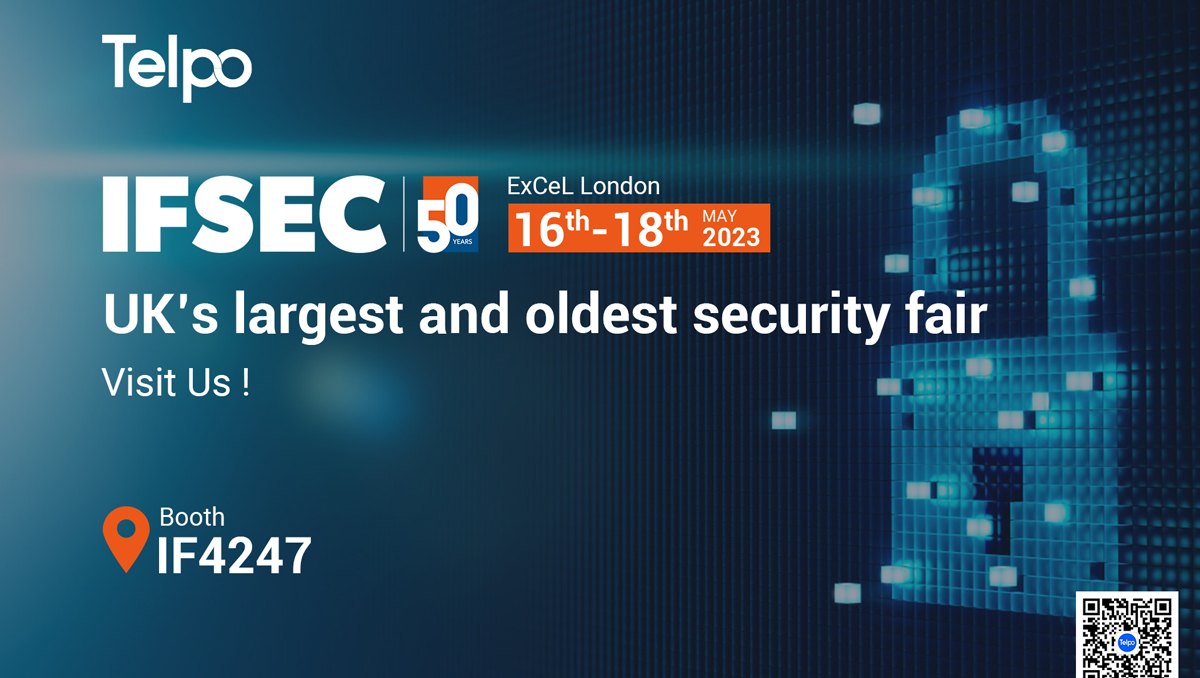 About IFSEC
IFSEC (International Fire and Security Event) is UK's largest and longest-running security event. With the topic of fueling security leaders to keep people and assets safe, IFSEC gathers more than 27,000 professionals from all over the world to together push the reform of the security industry.
IFSEC is recognized as an excellent platform for security industry actors to meet cooperative partners, get access to the latest security products, and explore the most advanced technology. As a smart security terminal and solution provider, Telpo certainly won't miss this security industry event. At the site of IFSEC, Telpo will display its top biometric devices and solutions and deliver unique insights to visitors.
Founded in 1999, Telpo has been rooted in the security industry for 24 years. Telpo has launched a wide variety of biometric devices covering handheld biometric devices, biometric tablets, desktop biometric devices, etc. These Telpo biometric terminals streamline the identification process, improve verification efficiency, and guarantee accuracy and identity security.
Get a first look at the products Telpo plans to display at IFSEC!
Telpo handheld biometric terminals
Telpo S5, TPS360 and TPS350 are the top 3 handheld biometric terminals launched by Telpo. All of them have the advantages of easy-to-carry appearance, leading protection level, large-capacity battery, multiple functions, etc. The difference between them is the function configurations.
Telpo biometric tablet
Telpo S8 is a rugged biometric tablet with wide recognition. It has been widely applied for citizen identity, account activation, border control, criminal identification, etc.
Features:
🔸8-inch touchscreen + biometric kit: easy to carry out for conducting biometrics identification everywhere
🔸Multifactor biometrics authentications: fingerprint, iris, voiceprint and face
🔸Multiple identity document reading methods: E-ID card contact reading, E-ID card NFC scanning, E-passport NFC scanning, barcode scanning, etc.
🔸Multiple fingerprint scanner options: FAP20, FAP30, FAP45, FAP60
Desktop verification device
Telpo D2 is a reliable all-in-one identity verification device. Now many scenarios require a desktop identification device to ensure security. Telpo D2 has been used as an identity verification workstation in railway stations, hotels, hospitals, etc.
Features:
🔸Dual 10.1-inch screen with adjustable angle: easy to operate
🔸Android 9 OS: support secondary development
🔸Liveness face recognition: accurate biometric identification
🔸NFC reader: ID card or driving license reading, human witness comparison
In addition to biometrics devices, Telpo is experienced in producing and customizing VIoT devices. The VIoT devices launched by Telpo cover face recognition access control devices, QR code time attendance machines, video phones, etc.
TPS980, QR code attendance machine
TPS980 is an Android attendance machine based on QR codes bringing quick authentication and real-time attendance data uploading in offices, schools, hospitals and shops.
Features:
🔸Ultra-fast QR code verification: Wide scanning angle, identification time < 0.5s
🔸High performance: Android 9 OS + 1.8Ghz fast CPU
🔸Real-time attendance data uploading: Supports 4G, Wifi, Ethernet, Bluetooth
🔸Multi-mode authentication: QR codes, NFC cards, HID cards
🔸Easy to install: Floor-stand, desktop, wall-mounted
Not limited to the products mentioned above, there are more possibilities to explore at Telpo Booth (IF4247) on IFSEC! Looking forward to meeting you in London from May 16th to May 18th!
Tag: IFSEC, security event, biometric device