As merchants introduce more intelligent devices to their businesses, how to effectively manage their devices has become an inevitable problem. To better serve the customers, Telpo launches the simple and powerful platform, Telpo AI MDM, to improve managing efficiency and enhance data security.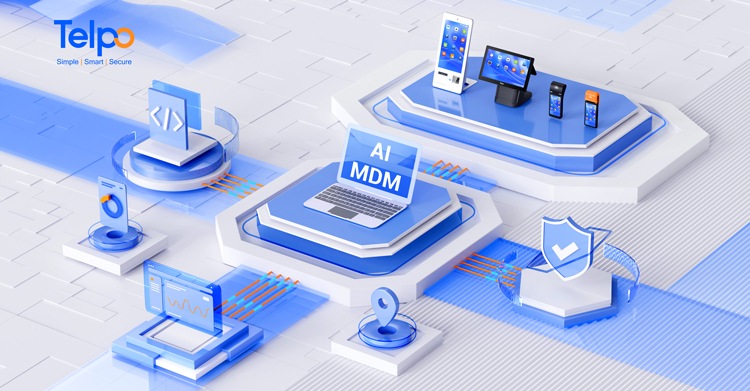 What is Telpo AI MDM?
Telpo AI-MDM
is a one-stop enterprise mobile device management solution designed for Telpo smart terminal devices. Through Telpo AI-MDM, connected devices can be easily and safely registered, organized, monitored and remotely managed in batches, which greatly reduces the cost and workload of managing smart terminals.
What benefits can Telpo AI MDM bring?
Easier batch deployment and management.
Telpo AI MDM enables mass enrollment, organization, over-the-air updates, and easy monitoring of all smart devices. Only from one sign-on, operators can configure all devices. Remote device management is ensured so that operators can remotely check all their Telpo devices' status, basic information, app installation and settings. Besides, they can reboot or shut down their Telpo terminals without the devices at hand.
Saving operating costs.
Telpo terminal management system helps merchants maintain profiles and publish configurations at a lower cost. Just with one click, the configurations can be published to new devices or deleted from deployed devices. Just with one click, the operators can flexibly distribute apps to specific devices, manage app versions, and push advertising content. Therefore, maintenance costs and labor costs have been reduced.
Improving productivity.
With the Telpo terminal management system, operators are able to complete multiple tasks through simple operations, which greatly improves efficiency. The improved efficiency and reduced costs expand the profits of merchants.
Enhancing data security.
The terminal management system launched by Telpo effectively protects data security. Telpo AI MDM provides data backup and recovery solutions to ensure customer data security. A variety of choices are optional by providing multiple deployment methods, including stand-alone and clustered server deployment methods.
Learn More -
>>
The data breach can be damaging to your business. Efficient management can be helpful to boost your business. Telpo has been dedicated to providing comprehensive one-stop solutions. Launching a terminal management system is a great effort made by Telpo. Telpo AI MDM is a simple and powerful path to the efficient management, guarding your business data security.
Founded in 1999, Telpo is a world-leading smart terminal and solution provider. Up to now, Telpo products have served more than 120+ countries, covering smart payment, smart retail, smart security, smart transportation and V-IoT field. Telpo is sincere to be your cooperative partner and has the confidence to boost your business. Welcome to contact us for more details.
Tag: AI-MDM, terminal management system