The demand for POS terminals has been booming and what followed is the challenge of managing devices that are deployed in different places and providing high-quality after-sales services for customers all over the world. For this purpose, Telpo upgraded its Telpo AI MDM. Now the Telpo MDM 2.0 is finally online!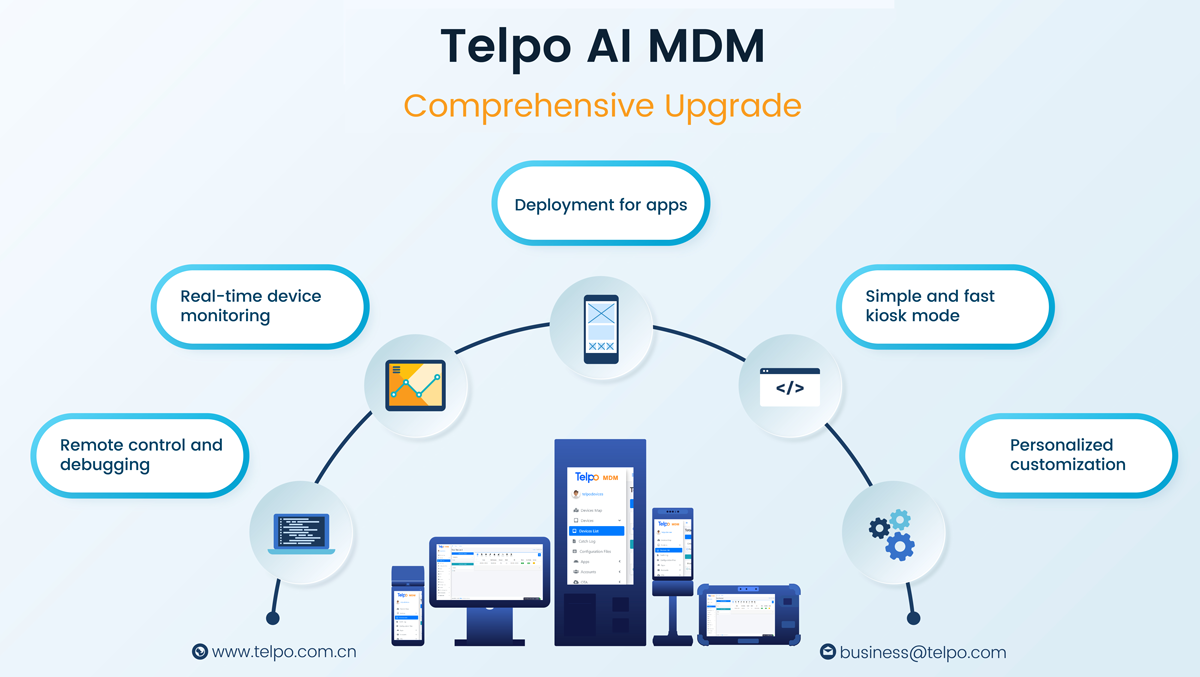 What is Telpo AI MDM?
MDM, or mobile device management, is a system to maximize device support, improve productivity, enhance management and elevate security. Telpo AI MDM is a tool that is specifically designed to satisfy specific management features of Telpo users. It helps Telpo users enjoy a tailored and complete service. All kinds of Telpo terminals will work with this, no matter mobile terminals, desktop terminals or kiosks.
What upgrades have been made to Telpo AI MDM 2.0?
1. Remote control and debugging
The Telpo AI MDM 2.0 solves the problem of not being able to provide on-site technical support. After obtaining user authorization, Telpo's after-sales personnel can control the devices remotely, which helps solve problems with high efficiency.
2. Real-time device monitoring
On the panel of Telpo's mobile device management system, the Telpo team can monitor the hardware and detect the full hardware information in real-time, and thus solve problems in time. All hardware information including kernel version, display resolution, battery, CPU, memory, signal strength, etc., can be viewed on the device detail panel.
3. Deployment for Google services
The AI MDM system allows technical personnel to remotely enable or disable device batch configuration, which is simple and effortless. This function provides a more flexible method to enable or disable Google services without the need for kernel changes or OTA upgrades.
4. Simple and fast kiosk mode
This upgrade adds more application mode configurations to meet multiple scenario requirements of customers. Customers can remotely and flexibly configure the running mode of the application according to the actual scenario requirements, which is fast, flexible, simple and hassle-saving.
5. Personalized customization
Personalized customization is also supported. Whether startup animation, wallpaper, Logo, or file transfer, the batch configuration of devices can be achieved through MDM. Customers can customize their devices and services in the more convenient remote method.
How Businesses will Benefit from Telpo AI MDM 2.0?
● Productivity
More functions have been added to the Telpo AI MDM 2.0, and customers can enjoy more services. Besides, it's much easier and more convenient for customers to communicate with Telpo's after-sales team, which improves the efficiency of problem handling and troubleshooting.
● Deployment
After the upgrade, Telpo users can achieve mass deployment in a faster and easier way. It enables merchants to obtain a more efficient management of their devices and it's easier to conduct upgrades in batches.
● Flexibility
The upgraded Telpo mobile device management system offers more flexibility to customers. They are able to unlock more functions and customize interfaces according to their actual needs.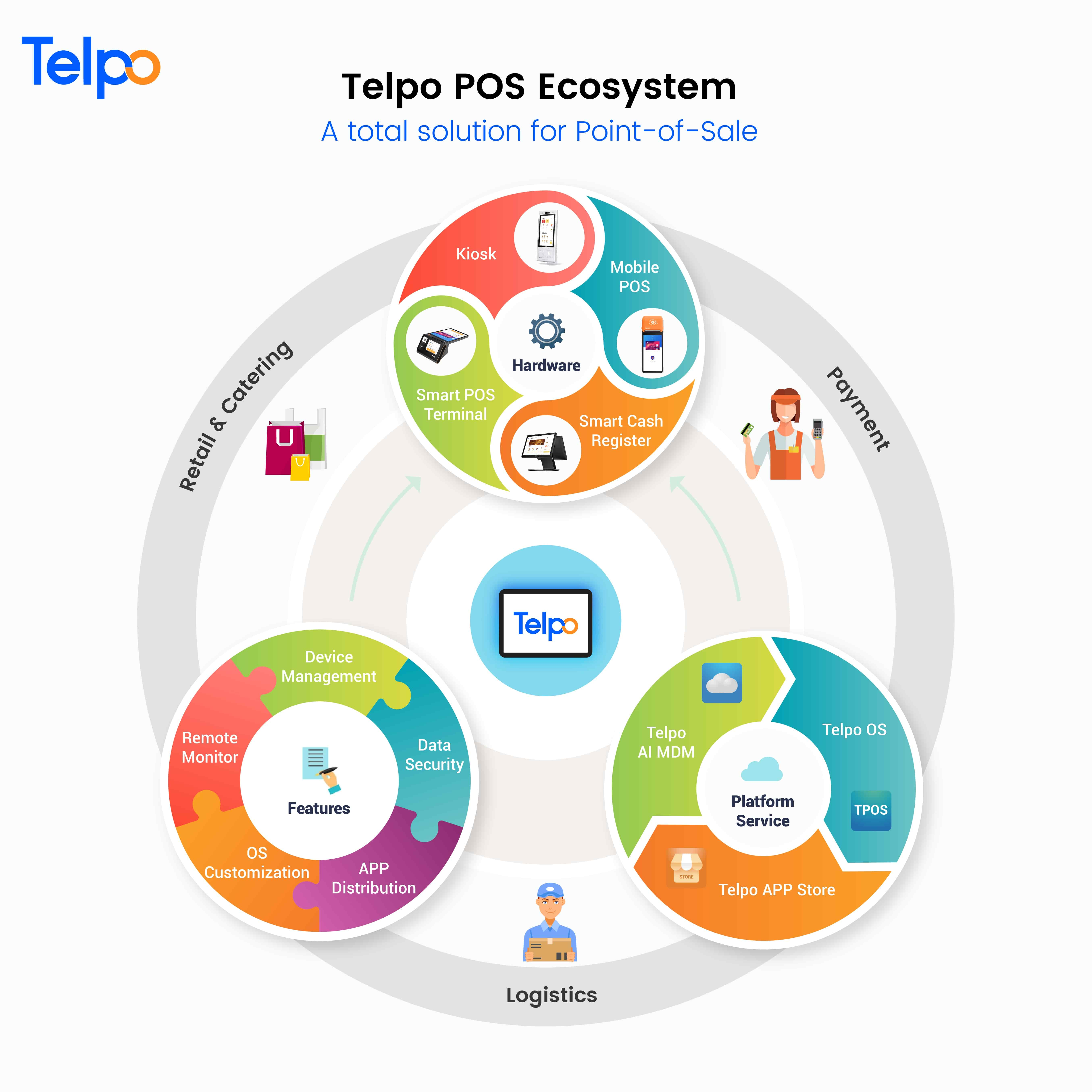 Telpo POS Ecosystem
Combining hardware and software, Telpo constructs a POS ecosystem, which is a total Point-of-Sale solution for Telpo users. In addition to the latest-launched Telpo MDM 2.0, Telpo also offers full platform services covering the Telpo APP Store and Telpo OS. These platform services help provide Telpo users with a more convenient and friendly experience. What's worth mentioning most is Telpo's reliable hardware. Telpo can provide a wide variety of hardware, no matter handheld devices, desktop terminals or kiosks. The needs of different application scenarios can be satisfied.
Founded in 1999, Telpo has been dedicated to providing hassle-free one-stop services to customers. If you have any problem with the platform services, welcome to contact sales managers for more details. Telpo is sincere in being your cooperative partner to boost your businesses.
Tag:Telpo AI MDM, mobile device management, platform service, remote control, device monitoring